7 Tips for Creating Authentic and Memorable Influencer Trips
Written By: Lindsay Sutherland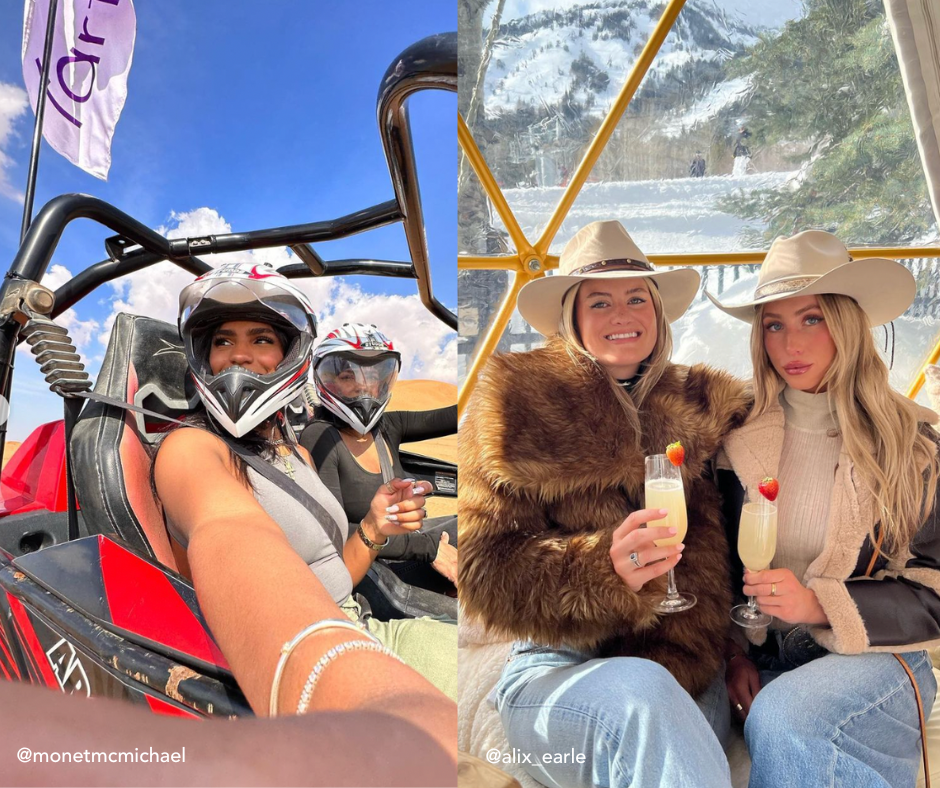 Want to listen to this blog post instead? Watch the video.
The power of influencers is no joke. According to a study by Influencer Marketing Hub, businesses are making $5.78 for every $1 spent on influencer marketing in recent years. Is this why brands like Tarte, Glow Recipe and Free People invest in brand trips?
Yes, and…
Beyond sales, these events are designed to create an unforgettable experience for influencers; one that tells a brand's story in a way that perfectly tees them up to create engaging content. The result? Authentic content that resonates with their audience and helps brands expand their reach, while fostering long-term relationships with a community of like-minded creators and fans.
Why is this important? Without an authentic strategy from the start, consumers won't hold back on voicing their disapproval of a brand online. Even with the best intentions, if your event manager or agency doesn't focus on the right goals for engagement, considering each step of the process, you run the risk of coming across as a brand with misaligned values (see: read the room).
Having crafted successful B2C and B2B influencer experiences, we're breaking down the top programming and design tips for engaging connections that last long after the day (or night) is over.
Quality > Quantity
Think about the invite list. It's all about quality over quantity when it comes to influencers. Currently, TikTok is filled with "de-influencing" videos where users call out brands that have saturated their FYP with influencer partner trips.
To combat this, we recommend a diverse list of relevant influencers for your brand. Diversity is important from a DE&I perspective, but also look at the content niches that may align with your brand. If you are a fashion brand, of course you'll invite your closest and most effective fashion influencers. But let's say the new collection is about sustainability – can you invite some zero-waste or environmental science student creators to expand your reach?
Once you have an invite list, you'll need to craft the entire attendee journey from these specific influencers' POV and start your pre-event communications. The goal is to seed them with information or goodies that build excitement and get them talking about the trip in the weeks leading up to it.
Key Messages from the Start
Your invitation needs to set the tone, and nothing says Instagram story quite like an unboxing opportunity. Send the influencer something that reinforces the key messages of the trip. This might tease out the type of product you're launching, or be something they can use while they're on the trip, like bathing suits for a tropical location.
In the early stages of planning, we recommend setting a sustainability plan. Events and trips are inherently wasteful. How can we, as event planners, get ahead of this? It could be a zero-waste onsite strategy, verified carbon offsets for travel, or local and seasonal food menus. Walk through the entire trip in your mind, looking for moments to improve. And consider how you might share this information with attendees – as always, actions speak louder than words.
Relatable Programming
The goal during the trip is to build relationships and get the best brand-focused content. To do this, tie activities and activations to the actual purpose of the trip. And this isn't just for the people in attendance, but for their followers as well.
One way to improve the Tarte trip was to produce content about the foundation itself. For example, with Benefit Cosmetics, we created a launch event that unveiled their new blush products. This was a full-stage production with everybody's phones out filming, but following the product reveal we had experiential activations where guests could play with the product and create content for their channels. We also used oversized blush palettes in the decor, ensuring it was front and center for Instagram stories, YouTube videos and TikToks recapping the event.
Influencer Wants & Needs
While most trips do not contractually ask influencers to post, creators often have content calendars they need to stick to while on a trip. At a minimum, you should provide stable Wi-Fi, but we've even gone so far as to create a fully branded content studio onsite. A studio can include backdrops, tech setups and quiet places to record. It's the small details that make a big difference.
We're also seeing more brands allow for +1s on trips. This is another way for the creators to feel prepared; a friend or chaperone, someone to help with their photos and videos, and in general, feel more comfortable while traveling with a group of strangers.
Want to personalize it even more? Ask your invite list! While it may not be possible to meet every individual want or need, you should always ask for feedback from your guests before, during and after an influencer experience. Make this request direct, simple and interactive, for better responses.
The *Right* Branded Moments
Integrate brand moments throughout the trip. You want to put the brand in visible spots, while not feeling like it's one big advertisement. Just enough to catch the brand from all the right angles. For example, a current trend in the beauty space is "Get Ready with Me" videos. Typically companies will add branding to mirrors, for selfies, but now people are filming the GRWM with the camera facing the other direction. So brands are losing the opportunity for recognition if they don't put some branding behind their vanities.
The key is creating the moments and making them easy to capture. If you know they'll be taking photos at a nice reception in front of a gorgeous view, add a brand moment in that exact spot - they will stand in front of it.
If you're taking them out for an activity, brand the gear and make it pop. As designers, we walk through the entire event, through the lens of the influencer/guest. This allows us to weave those brand moments into each touchpoint and ensure they are ready for content capture. It also helps us determine what isn't worth branding and save on budget. For example, we typically cut out branded napkins, straws or food items on beauty trips, as this type of influencer doesn't usually post food content. When done thoughtfully, branded moments can maximize the effectiveness of a trip.
Internet Trolls
If you're wondering how to deal with people trolling the trip online, scroll back to the top and reread this post. The best way to avoid heavy criticism is to make sure your values and key messaging are woven into every aspect of the trip. Set goals for how you will make the trip as sustainable as possible, involve local businesses or report on specific DE&I initiatives. Your efforts will shine if you are authentic and honest with your audience. There will always be a few nay-sayers and people looking for online clout, but if your brand can show, not tell, influencers how you commit to these values, they will become your greatest brand advocates.
In Conclusion, Keep It Real
Ultimately, influencer trips boil down to fostering community. The goal is to build a relationship with the brand and it may surprise some marketers that immediate and direct sales do not always come first. Think about the long game. The key is to keep it real and bring to life whatever is authentic and core to your brand.
What are your thoughts on the successes and failures of the recent influencer trips?