Why Experiential Marketing Is a Must for Brands
Written By: The DPEM Team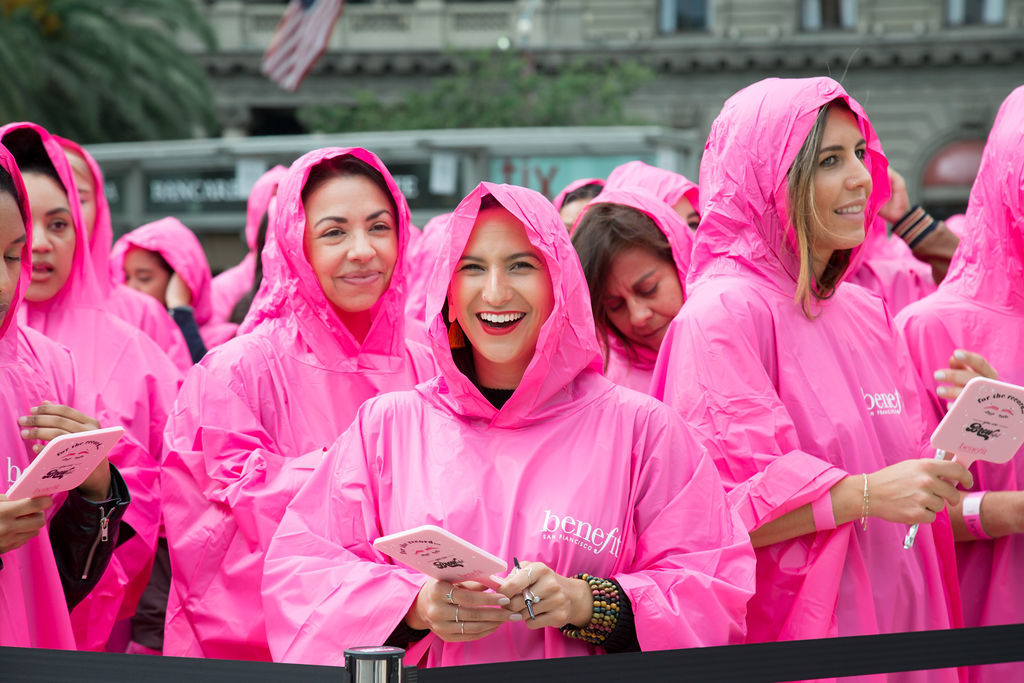 Image: Benefit Cosmetics, National Brow Day Stunt, Jenna Beth Photography
Event Strategy, Design, & Production by DPEM
With technology playing such a big role in everyday life, it can be difficult to sift through the overload of content coming in from every channel. How can you make your brand stand out through the noise to your target audience to create a meaningful connection with them? The answer: experiential marketing.
What is experiential marketing?
Experiential marketing allows your brand to connect in a way that fully immerses your audience, inviting them into your story and engaging them in a very active way. It means interacting with your target market face-to-face through live participation. Experiential marketing allows you to go beyond passive and inbound marketing to build a true connection with your brand. It goes beyond just putting on an event — it's about creating an experience they remember having.
We've helped companies inspire their audiences to be a part of the brand's story by architecting authentic, personalized moments that transform how people think and feel. We've created immersive experiences like:
Creating an experiential brand moment for consumers on National Brow Day for Benefit Cosmetics to promote brand awareness


Reimaging the American happy hour experience to emulate the aperitivo experience for Aperol Spritz to drive sales


Recognizing a younger community of culinary influencers to modernize Zagat's brand perception and cultural relevance
During the "new normal," it may seem more difficult for businesses to attract consumers with experiential marketing because we tend to think of experiential as brand moments that only happen in person. However, the pandemic is helping us find even more innovative virtual engagement tactics that can reach farther than in-person experiences and can be accessed on a global scale.
Bringing experiential into the virtual world
Where we used to bring audiences to us before, now we go to them — virtual experiential marketing takes immersive experiences straight to their homes or anywhere else they may be. When it comes to creating these types of experiences online, we have a whole playbook of virtual event ideas to draw from. While the format may be new for some brands, there are great examples of engaging virtual experiences that emerged from the global shutdown. Take a look at these for inspiration:
Through unique virtual experiences like these, experiential marketing allows brands to deliver their message to a broader audience, building new and deeper connections. We are constantly working to develop virtual engagement strategies that help you find the right engagement solution to tell your brand story in this evolving virtual environment.
Experiential marketing empowers brands
Experiential marketing empowers brands to take a stand and impact people to think or act differently, providing a platform to present messaging through engaging and innovative experiences.
Many brands can benefit from experiential marketing because it:
Provides perspective on the user experience: The key to designing and producing successful experiences is to determine the "why". Identify why you are creating this experiential event and who you are creating it for to understand what audiences want and don't want and ensure all components are aligned. Refocusing on the "why" leads each program down a unique path to the best solution for your challenge.
Allows the brand to be experienced: Experiential marketing offers an opportunity for the brand's message to be immersed in all five senses and something that the audience can experience, not just watch. Unlike advertising or social media, experiential brings engagement to life and invites audiences into their world to create moments and memories — all for the goal of developing a connection with them and driving loyalty, sales, etc. It's like marketing on steroids.
Creates conversation to drive engagement: Experiential marketing is dedicated to interactions between the brand and the customer. Brands using experiential marketing create a conversation and invite attendees to join in. This active collaboration creates a more inclusive experience to establish stronger and longer-lasting brand loyalty. This tactic was the foundation of VERGE/Impact, where attendees created the event's conversation in support of the brand's mission to advance positive societal change in the insurance industry.
Beyond those benefits, experiential marketing lets brands meet marketing goals using a deeper level of engagement than normal marketing tactics:
Build anticipation through exciting content that captures interest and increases attendance


Build emotion into the programming with creative storytelling


Build relationships through relevancy, thoughtfulness, and inclusivity


Build escape by breaking away from the norm and providing moments of immersion


Build new approaches through workshops and webinars


Build comfort and create space for the individual


Build community by speaking to target audiences and engaging them to be a part of your movement


Build loyalty by taking action and walking the talk
Engaging your audience through experiential marketing as a brand enables you to create a unique space to use your brand voice and invite your audience into your story to make an impact.
Creating experiences that are important and add value are vital to maintaining the interest and loyalty of your audience and gives them something they can remember when the event is over — creating long-lasting impressions.
Start creating a unique and innovative experience today
While many brands focus on presenting information to their audiences, experiential marketing sets brands apart by focusing on creating a fully immersive experience with their audiences. To find out more about how experiential marketing works and how you can use it to produce effective and enriching events, start a conversation with us and schedule a 30-minute exploratory call. Our team of innovative thinkers is here to help you create a unique and inspirational experience for your target audience.