Virtual Event Management in 2021
Written By: Lindsay Sutherland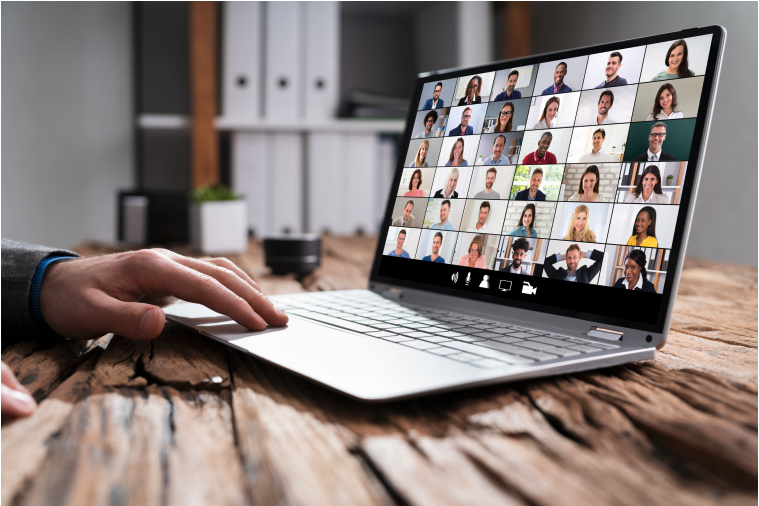 In 2021, virtual events are here to stay. While it's true that 2020 and the COVID-19 pandemic shook up the world of events, we're embracing the endless possibilities provided to us as we transition our events into the virtual space. We now have the opportunity to redefine the very expectation of what an "event" is and take back the moments of human connection and joy that we deserve (and need).
Virtual Event Lessons Learned from 2020
2020 brought a massive global shift from in-person to virtual events. People scrambled to think how things like employee engagement events, product launches, and conferences could be translated into the digital space. We took it as a challenge, and collectively, the events industry pushed the boundaries of what an event looks like— focusing more on the attendee experience.
Here are some of the lessons we learned during the past year:
Virtual events are not an interim solution to take place of in-person events, and they bring a different value altogether that solves specific challenges. Now, we can clearly define virtual events as their own category and build out strategies tailored to this unique space for the foreseeable future.



The pandemic effectively broke the business mold for event management. To find success moving forward, events will embrace a new normal, driven by problem-solving the creative needs of engagement - whatever form that might take.



Event planners have evolved past their traditional scope and will continue to grow and become engagement specialists and technologists as well.



A rebalancing of society and business practices is on the way, but don't force your old audience to adapt to the changes. Turn your attention to engaging your existing audience in new ways and finding new, relevant audiences for your virtual events.
How to Produce a Virtual Event in 2021
Building on the lessons learned from an evolutionary year, event production in 2021 will be increasingly focused on the attendee experience and virtual elements. Start with the overarching goal for your event. How can the road you take to get there be reimagined to be optimized for the screen? The key is not to force virtual events to happen, but to know your event audience and what they need in order to receive the intended message of the new virtual event.
For example, a lot of sales teams regularly use 50-100 person networking events to connect with their clients and prospects. The need and intended goal of these sales teams hasn't changed, but you can't just shove a classic in-person networking event into the mold of a virtual event and expect it to fit. Instead, you can reimagine the networking experience into a series of smaller, virtual events (like a virtual cooking class with a celebrity chef). This way, networking, and connection is still an achievable goal for your event— and along the way you have evolved your event into a unique occasion that is worth showing up for and still provides value to your audience.
Best Events to Host Virtually
With the right degree of creativity and innovation, there is a great opportunity to create exciting and compelling virtual experiences— and we're just on the precipice for what we'll see in the coming years. (VR networking events, anyone?) That being said, here are some of the top events that are a great fit for on-screen:
Types of Virtual Events in 2021
Not all virtual events are built the same and each one needs its own strategy, platform, and engagement tools. The format used to manage your virtual event matters to its success. For example, company-wide annual kick-off events don't require the same tech and production essentials required for a broadcast-style product launch — even when both events are being held virtually.
Virtual events that are relevant to audiences in 2021 and scalable include:
Product launches and virtual showrooms


Kick-off events


Broadcast-style events recorded in spaces like TV studios


Hands-on experiences for distributed employee team building or customer networking, with experience enhancement kits shipped in advance


Presentations and panel discussions where scale and diversity of participation is of higher value than in-person presence


Interview-style programs


Interactive educational events


Training programs and virtual onboarding


Board meetings, shareholder meetings, and quarterly business reviews (QBRs) that span multiple offices and regions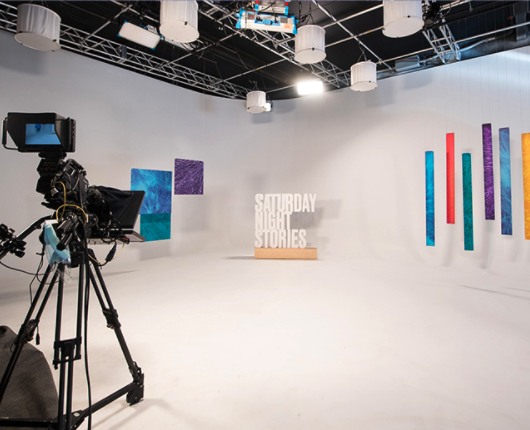 Saturday Night Stories for UCSF, a broadcast-style event filmed in a studio
Virtual Event Platforms + Features
To help produce and run your next virtual event you'll want to utilize a virtual event platform and maximize their features. As the industry grows, the virtual platforms we use are evolving alongside it. Often, the size of your event will determine where to start looking, along with tech requirements.
With so many options on the market, think about your team needs, IT needs, and, most importantly, audience needs. Another big factor? Attendee accessibility. Can your event be streamed across device types and locations and is the platform easy for attendees to use? Is there a built-in community-building feature like a chat or message board?
Once you have determined what your virtual event needs and the platform features that you will require to execute the best attendee experience, you can choose the platform that best fits your needs. The best virtual event platforms will give your team the freedom to focus on the important aspects of events— brand messaging and storytelling, attendee experience, virtual activations, and creating engaging content for your audience.
Virtual platforms for event management in 2021 include: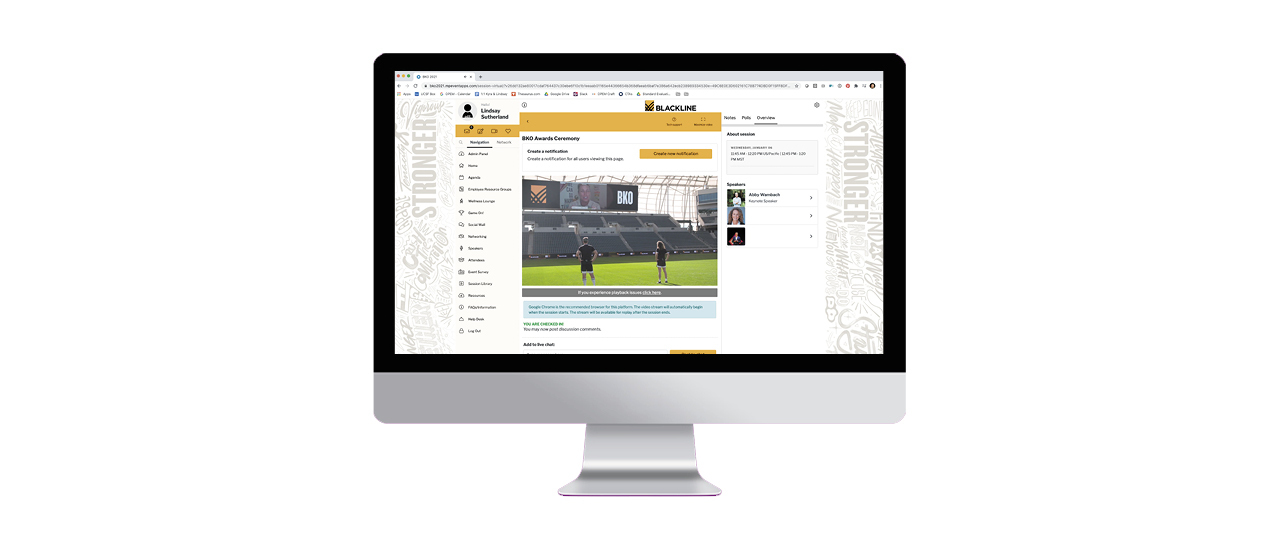 Virtual platforms are ever-evolving, just as virtual events and experiences are. To make sure you are using a platform that meets your virtual event and company needs, review event software on a regular, individual basis. Here is our guide to Choosing the Right Virtual Event Platform.

Looking for support in producing your next virtual event? At DPEM, we've developed our own virtual event strategy to support our clients in hosting events completely catered to their objectives. Learn more →
Virtual Experiential Event Strategies
Just because we are moving toward a post-COVID-19 world doesn't mean that virtual events will be irrelevant in 2021. In fact, it's more the opposite. As the world begins to slowly reopen, event strategies will adapt to meet the changing tides and global expectations for what a virtual event can be.
If you find yourself struggling to make your virtual event unique and *actually* fun, sign up for a free 30-minute exploratory call today.
If anything, moving toward a more open world introduces new challenges in terms of virtual event strategy, giving us a chance to roll up our sleeves and embrace creativity. Success in this realm means designing a virtual event experience that your attendees will be willing and enthusiastic about attending, after a year of being required to join the world virtually. How do you get an audience excited to join and participate in virtual events, coming off of a year of Zoom burnout? How do engage them beyond the screen itself, creating a holistic, multi-sensory experience and building community?
The answer is to create unique and experiential virtual events that truly provide value to your audiences and connect them to one another. Here are a few strategies to help you lead with this strategy as you plan your next virtual event.
7 Virtual Experiential Event Strategies + Tips
1
Offer your audience choices.
Offer your audience choices throughout the event, so they can weigh the value for themselves.

Example: Give attendees a chance to decide if they want a smaller breakout session or a 1:1 conversation. Different folks will have different preferences based on personality or mood.
2
Be clear about the event's goals.
Be clear about what you are hoping to achieve with your event, whether it is to deliver information, create networking opportunities, or engage employees and boost morale.
Example: Send out a "know before you go" guide one week prior to the event from a leader in your organization, clearly outlining expectations and objectives.
3
Meet your attendees where they are.
Create your event with the goal of meeting your attendees where they are, so they can sit back and enjoy.
Example: If your employees are "zoomed out" and suffering from virtual fatigue, create a low lift event that doesn't add to their virtual burn out by creating content that allows them to be present and enjoy (like creator-lead DIY activities) and take a break from their screen (like socially distanced picnics or meet ups).
4
Push the envelope with what you feel is possible to achieve with your event.
Excite your audience into exploring what the virtual experience has the potential to offer beyond what they have all grown used to expecting from a virtual experience.
Example: Try virtual reality (VR), a virtual silent disco, or a new format for your annual kickoff. Your team will be energized and inspired to be creative.
5
Build anticipation for your virtual event.
Create FOMO and excitement ahead of the event to build anticipation for it, like dropping a teaser that features a big celebrity guest.
Example: Have your presenters jump on a live social media or Reddit Q&A/AMA, or send a series of clues in a teaser video in the days leading up to the event.
6
Incorporate activities that don't require screens.
Define health spaces during the event that incorporate time away from screens, and activities that encourage attendees to get outside and move during the event.
Example: Incorporate nature breaks or screen rests into your event schedule, like a walking podcast that highlights your brand or event story for them to listen to while they walk.
7
Allow attendees to create their own adventure.
Allow attendees to choose their own adventure by blending a combination of live, simulated-live, and on-demand content to keep your attendees on their toes throughout the event. This is also inclusive for those who may not have as much free time during the sessions or who are in a different time zone.
Example: Drive critical mass to the key sessions by making that content only accessible live, like a keynote speech, while also offering on-demand content that they can choose from at their leisure like wellness activities, demos, and tutorials, or smaller breakout presentations.