Trends in Digital Placemaking and Building Brand Community Online
Written By: Dominic Phillips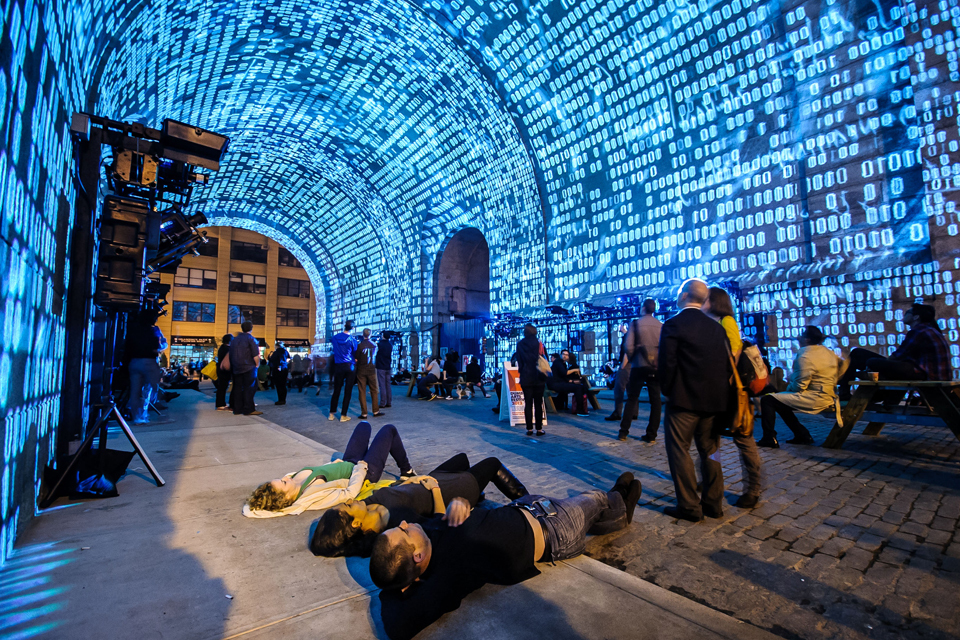 They say that necessity breeds innovation. In 2020 and continuing into 2021, we have certainly seen our fair share of never-before-seen creativity born from a time of feeling isolated and removed from society. People are craving ways to connect, laugh, meet new people, learn new things, and create.
While placemaking, or the intentional creation of community spaces with a purpose, is such a physical experience, organizations are finding ways to recreate in-person experiences using technology and creating digital spaces for community.
Brands and creatives alike have turned to technology, finding ways to incorporate digital avatars to simulate interaction during virtual conferences, explore the world and build business communities together, and even create interactive, tech-powered art museum exhibits.
Creating digital spaces for people to connect has evolved into the creation of destinations, places that people want to spend meaningful time. At its heart, placemaking is about reminding us that the spaces we inhabit or visit, even in the virtual world or incorporating tech elements in physical spaces, are not simply functional; they inform and enhance the human experience, connecting us to the spaces around us and each other.
What is digital placemaking?
Jo Morrison, Program Director at Calvium, sums up digital placemaking how we see it:
"Digital placemaking is interested in how tech can be harnessed to deepen people's connection with the public realm and, in turn, with each other. The practice [of digital placemaking] is helping citizens to reimagine forgotten spaces, tell important stories and provide architects and developers with innovative solutions to urban challenges."

The intent of placemaking and how people engage with placemaking are the same no matter what the "place" looks or feels like. Virtual and in-person experiences are just held in different environments. When you engage your audience in a space, any space, leaving them to forget where they are and focus on the conversation, the feeling, and the moment— that's placemaking. It's an environment, built on purpose and designed to provide value for a select audience.
Digital placemaking comes in many forms and is used for many reasons but there is a common theme throughout placemaking and in the patterns we've seen over the past year: people. Essentially people want two things: safety and adventure. The first is primal protection, and it's at an all-time high on the priority list following a global pandemic. The second is an evolved desire for more, humans crave stimulation and connection.
A big draw for introverts or people with busy schedules, digital communities require almost no commitment. Community members get to be voyeurs or participants, choosing to join when and for however long they may want. Without the realities or barriers of the physical world, participants of placemaking installations or communities get to be the person they really are as opposed to the person they feel they should be. Additionally, adding digital components to physical or in-person experiences opens the opportunity for more to enjoy, connect, and experience the thing that you've created.
In order to meet the social and cultural demands, it's vital that placemaking involves digital components where relevant. Digital placemaking should always be focused on making places better, attracting communities of all types to deepen their connection with the public realm and, in turn, with each other.
Hosting or planning a virtual event? We've put together the strategies, best practices, + tools you need to create successful experiences. Read more. →
How are people using technology to create digital spaces that stick?
Digital experiences that people keep coming back to have a common theme. Interactive technology has a virality to it, an innate shareability and addicting quality. It takes moments for those who experience them to want to share it with the world.
Take this interactive page from Isadora Digital Agency (winner of the Site of the Day award from AWWWARDS, no surprise there.)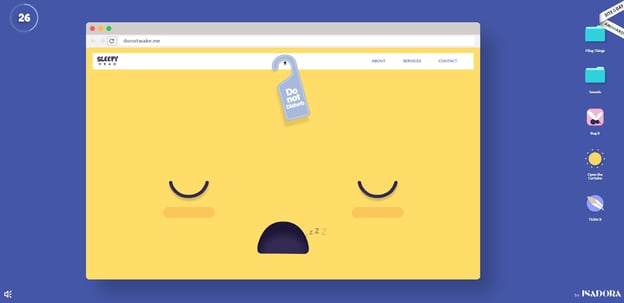 The site is super clever and engages the viewer instantly, giving it a playful element that's unique and highly interactive. This site shows the difference between a traditional webpage and the power of an interactive digital experience. By creating a space where a potential customer can spend time, interact, and get to know the brand, they are building a real connection rather than shoving an ad about why the company is so great at the prospect.
Virtual is the way of the future, so brands will need to embrace it to stay connected, relevant, and valuable. Engaging in a virtual community is a short, powerful dose of connection, entertainment, distraction, inclusion, or me-time. It's a place where you have value, comfort, and control over your environment, like a modern-day kit-kat break.
COVID retrained us. Before the pandemic, if we had concerns and reservations around technology, now they are just part of our experience. As a society, we gave up a lot of concern for technology overuse in favor of convenience, engagement, and accessibility.
Speaking of technology, brands are coming up with some innovative ways to incorporate technology as a new way to experience, connect, and create, both online and in-person. With the ability to seamlessly combine virtual elements with in-person or app-based activities, these placemaking installations redefine what it means to build community.
This augmented reality exhibition combined art, culture, and technology in an interactive way. For the Year of the Pig, The Three Pig Sculptures were the center of an augmented reality retail activation that invited patrons to dance with their augmented, dancing pig counterparts and shared on social media.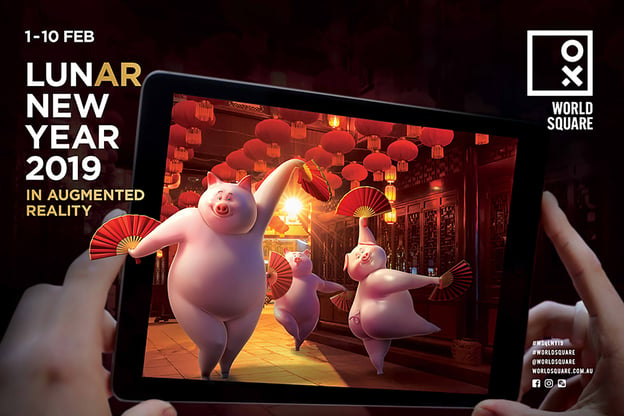 When Pokemon Go, an interactive, AR video game launched in 2016, it amassed 230+ million users in its first year. It is community-driven, self-paced, interactive, and addicting. By creating a way for fans of all ages, gaming abilities, and locations to connect and engage, the Pokemon Go community flourished as a means of digital placemaking. The Reddit group for the app has 3.2M active users and remains a popular space today.
With a record-breaking one million viewers, K Pop band BTS performed live for fans in almost 200 countries around the world. By incorporating four stages, AR and XR (extended reality) technology, and behind-the-scenes content, this was a brand new way to experience music. And for the next generation, it's here to stay. Fans engaged together throughout the concert on social media, all joining during the concert time, creating an online community of BTS lovers.
Digital Placemaking Platforms
These platforms are taking virtual events and adding even more human elements to enhance the experience. With a year plus of companies having to turn to virtual events, many industries are keen on amplifying these virtual experiences and pushing back against Zoom Fatigue with engaging, never-before-seen online interactions. Brands that leverage digital technology that wows audiences and leaves guests telling their friends about it earn exponentially more brand awareness, all while building a community of loyal followers.
ExVo takes online events and gives them a physical environment for attendees to look around, experience, and learn from. By providing a fully immersive atmosphere for attendees to browse booths and leisurely happen upon vendors and other attendees alike, engagement rates for participants are much higher than traditional online events.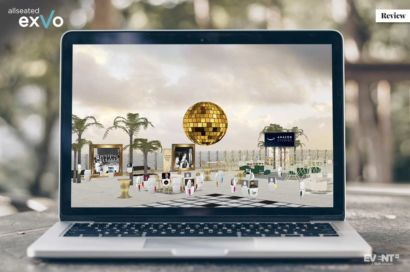 Source: Event Manager
Virtway offers fully virtual events with a virtual 3D world and customized avatars. This platform takes your physical being into the virtual world in a futuristic way, paving the way for mingling, meeting new people, and fostering digital connection.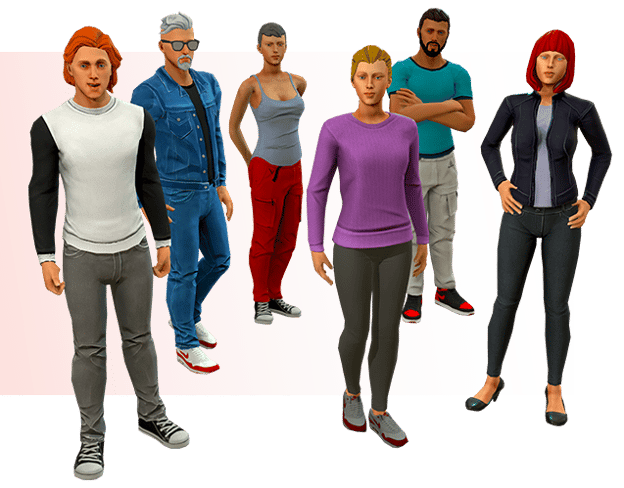 Source: Virtway


Photo booths are a great way to get event-goers to loosen up, have fun with friends and colleagues, and create a memorable takeaway from an experience. Tech platform snapbar has virtual, in-person, and hybrid photobooth options complete with fun backgrounds and the props your guests have around them.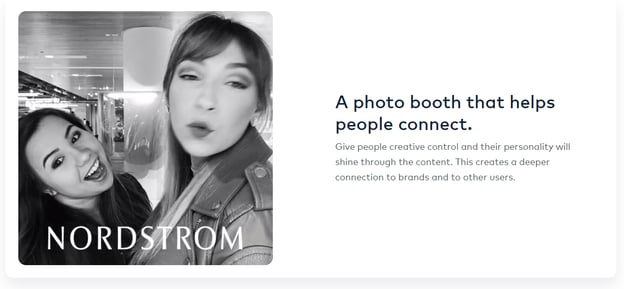 Source: snapbar
6 Examples of Branded Digital Placemaking Experiences
Brands have the power to change communities for the better. When creative teams join together to tackle community needs or better serve their network, they serve a larger purpose, and in turn contribute to an improved image for their organization
Here, let's look at some experiences powered by brands and technology that are impacting their communities and what makes them special.
Battersea Power Station Heritage Trail App
With plans for the Battersea Power Station to become a town center with shops, restaurants, green spaces, and a place for community, the goal of this redeveloped area is to drive placemaking while maintaining the area's history. To place the seeds of community building, a unique digital placemaking experience in a mobile app was created to immerse their audience in the building's heritage via location-based GPS, artificial reality, and deep, rich storytelling - all while it is still under construction.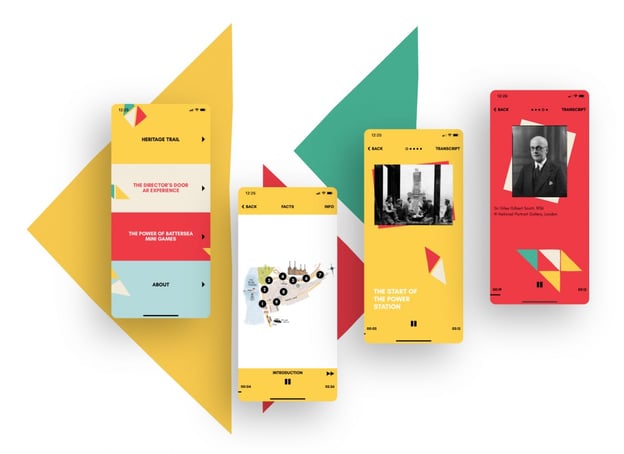 Source: Calvium
2
Atelier Lumieres by Culturespaces
Part of Culturespaces digital culture exhibits, the Atelier Lumieres "Workshop of Lights" experience showcases work from artists Dalí and Gaudí in a "hypnotic atmosphere" and allows viewers to journey through the artistic world using digital technology. By integrating visitors into the artwork, this completely new way to experience art unites art-lovers and offers a new space for community.
By installing an interactive sidewalk exhibit, digital technology can transform busy urban environments into more welcoming, safer spaces for everyone. Through the use of multiple technologies, Starling puts pedestrians at the center of urban mobility systems while creating a fun way to connect communities.
Google's Arts + Culture hub has been around for a bit now and is as engaging as ever. With features like Which artwork looks like you?, a tool that uses AI to match your selfie to a piece of famous art and another tool that transforms photos into art, the site is fun and informative. Now, the page includes creative digital tours of art museums, cultural sites, and other world locations with creative narration and details.
This site provides a space for users to share art with friends and family, explore together from afar, and create connections between art-lovers independent of location or background.
5
Burberry AR + Digital Experience
To bring customers back to stores and get them excited to shop again post-pandemic, Burberry launched a pop-up AR experience in Harrods to coincide with the launch of its new Olympia bag, along with an interactive virtual store and Twitch community. Using a QR code found in-store, customers can watch the Elphis statue walk around in their surroundings, as well as take a photo or video to share with friends. These experiences reconnected the Burberry community to the brand, and safely brought them back into stores (together) at a time when their retail partners needed it most.
6
Fenty Skin Digital Launch Party
Rihanna's new skincare line, Fenty Beauty, launched with a Sims-like house party virtual event that was open to their community and hosted by Rihanna. With virtual rooms like the Fenty Skin Spa, a cocktail bar with recipes for download and digital renderings of drinks, a dance floor, a pool, and more, this event was comprehensive and full of surprises. This virtual event was successful because it resonated with the brand's consumers, was inclusive, and made them feel seen. By cultivating a virtual reality that they could truly participate in, the Fenty community had the opportunity to party with Rihanna in what usually is a VIP celebrity launch event.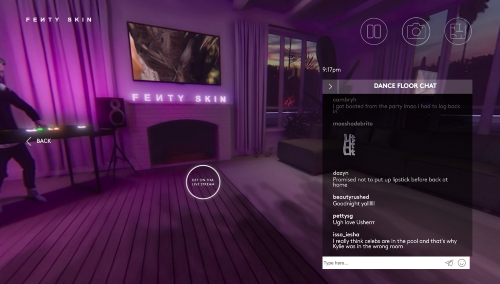 Source: Medium


Creating a sense of community doesn't need to exist between four walls. It's a feeling, a moment, and a sense of purpose within a space. It's bringing people together in meaningful ways and fostering an environment of comfort, safety, and creativity.