Making Events + Experiences Touchless
Written By: Lindsay Sutherland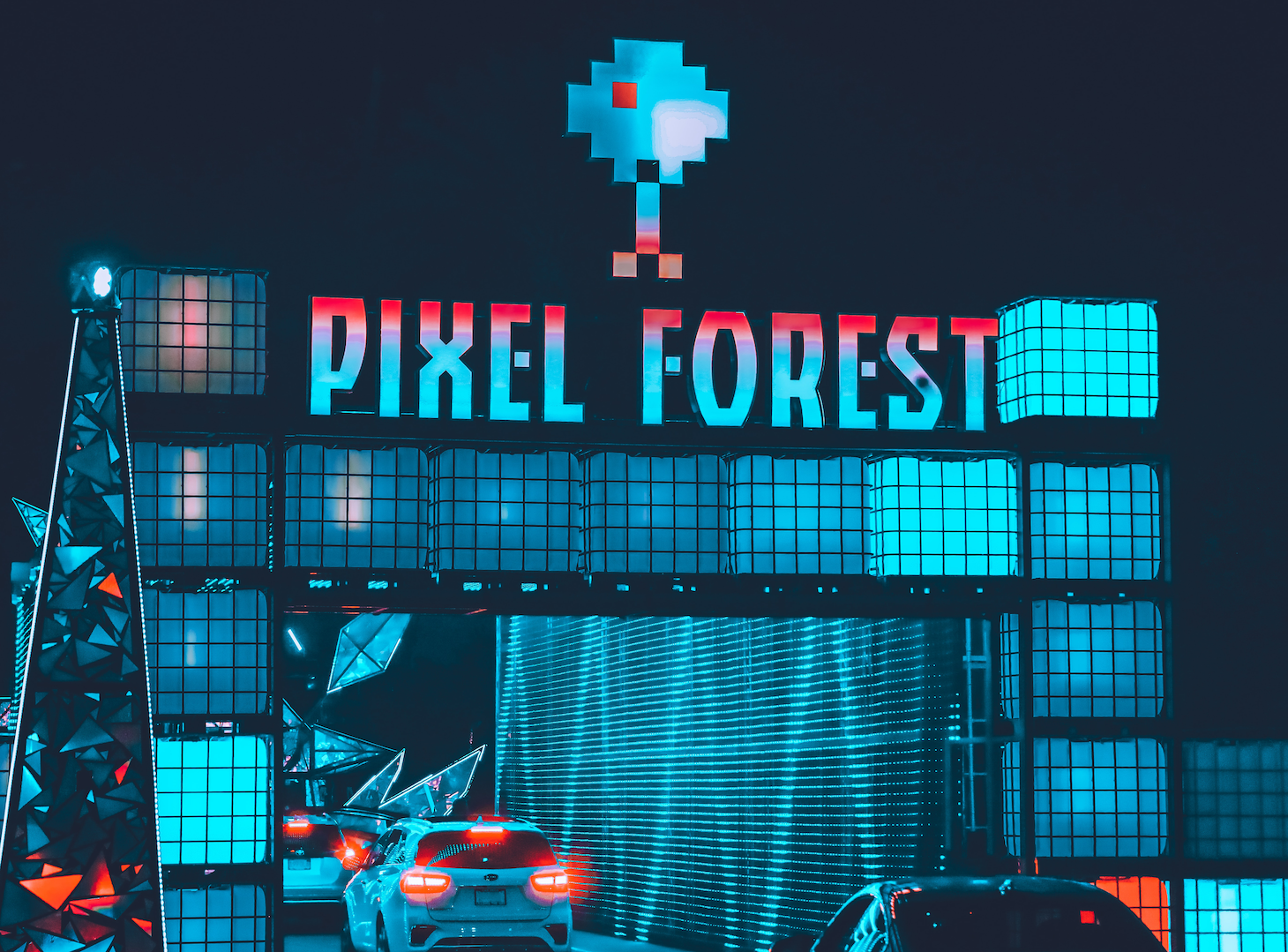 As we move closer and closer to the return of fully in-person events, event strategists everywhere are finding themselves having to adapt to a long list of new challenges. Primarily: how to make in-person events safe for the masses in the wake of a global pandemic. In addition to navigating new health and safety protocols, strategists must also create events that are justifiably in-person. After a year of attending events virtually, people are going to be wary about attending large gatherings so in-person experiences need to be really valuable and safe for them to want to attend.
One way to re-engage with in-person event attendees while prioritizing their health is by integrating touchless experiences into your experiential events.
What is a "touchless event"?
A touchless event prioritizes minimizing human contact to maintain safety. Touchless features not only make your entire event safer for attendees and staff members, but they are oftentimes the more efficient alternative to standard registration, payment, and event practices. Touchless features can include using QR codes rather than physical passes or having an app to order food instead of ordering at a counter.
Sure, sanitariness is a welcome benefit of touchless experiences, but the focus here is on the user experience. Intentionally integrating touchless experiences ensures that guests have more opportunities to connect with your event's key "touch" points that you actually want them to remember.
Creating Touchless Experiences at your Experiential Events
If you really put your mind to it, every stage of your event can be modified in order to become touchless. From pre-event registration to post-event CTAs, every moment can be optimized to improve the attendee experience.
The key here is to lead with an experiential mindset. As an experiential event strategist, you are already equipped with a lot of the tools you'll need to complete the transition to total touchless. Think of this transition as just another step toward making your event as unique and safe of an experience as possible for attendees.
Think of touchless tech as an extension of the attendee experience altogether by using it to tell your brand story and thoughtfully integrate the experience into your event. When you dive deep into your creative toolbox, you'll be able to create a compelling and memorable experiential event for your attendees— all without them lifting a finger.
Touchless Events
When it comes to the meat of your touchless experiential event, there are many design options available to help you make the most meaningful and engaging touchless event possible. There are two approaches to creating your touchless events: choose a touchless format and concept that you find compelling and apply it to the purpose of your event or start with your event goals and mold them to form a touchless format. Either route will get you to where you want to be— at a completely original, touchless event.
For touchless event inspiration, let's see how some organizations pulled off touchless experiential events of their own in recent years.
Walkthrough Experiences
Walkthrough experiences are interactive events where attendees navigate exhibits and features on their own, guided by an event app that they've downloaded on their phone or with touchless audio proximity activations. Walking experiences are an easy way to structure a touchless event because they are familiar and don't require attendees to touch anything besides their shoes to the floor. Think of these events like museums, they are less structured experiences than other types of events, which can be a perk for companies looking to provide their attendees with a highly customized event experience.
An added benefit of walkthrough experiences is a staggered entry, which naturally promotes social distancing. Whether your walkthrough experience is inside or outside, you can include signage in your event space to promote distancing while experiencing the event.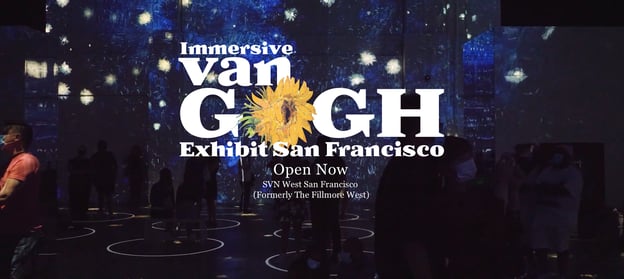 Source: The Van Gogh Experience
For example, the Immersive Van Gogh experience guides attendees through this self-paced event by encouraging them to move through the space guided by socially distanced circles placed on the floor. Attendees are able to jointly experience this unique, immersive indoor event without ever feeling unsafe in doing so. Although it is a more simple concept than other touchless experiential events— this is a fully immersive visual experience— the Van Gogh experience has quickly become a leading industry example for what's possible in the journey back to in-person events.
Drive Through Experiences
Due to the COVID-19 pandemic, the once thought extinct drive-in movie theater has made a comeback in a huge way. On the typical movie theater side of things, this is solely due to the fact that during the pandemic it was unsafe for people to see movies in traditional movie theaters and far safer for them to see them in the safety of their own car. This led to an increase in drive-in movie theaters and drive-through holiday light shows.
Create unexpected and unique experiences that all attendees can participate in without getting out of their cars. Think outside of the box here, and deliver an event that truly provides value and intrigue to your audience - create something that they want to be a part of.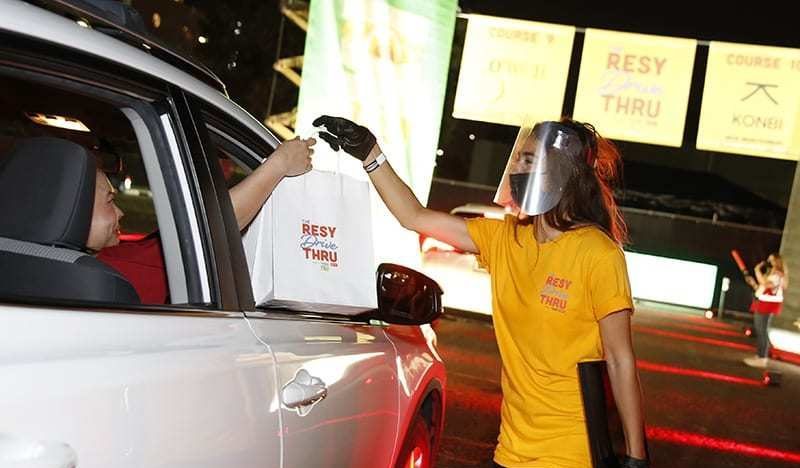 Source: Event Marketer
Completely unique drive-through events like The Resy Drive Thru deliver attendees with an experiential event experience that they have never seen before - it created F.O.M.O. The Resy event took the classic drive-through experience to a new level by serving an exclusive 10-course meal from the top restaurants in the area right through their car windows. Over the course of the two-day event, Resy served 600 satisfied guests with the help of contactless check-in, designated waiters, and guided playlists to accompany attendees on their culinary journey.
Virtual and Augmented Reality
When we think of VR our minds typically jump to those big headsets, goggles, and handheld controllers— not exactly a touchless experience (or particularly hygienic). Instead of sanitizing VR sets in between use, some companies have found success with Google Cardboard.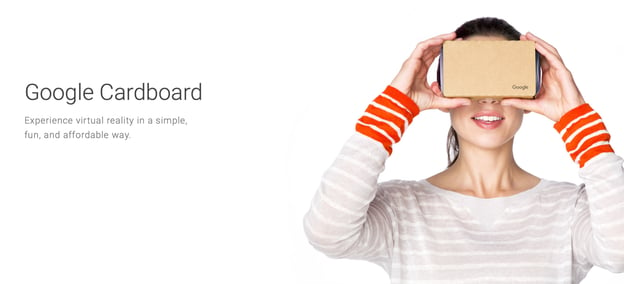 Source: Google Cardboard
Google Cardboard is a touchless way to bring the VR experience to your event attendees, without the use of actually sharing VR devices. Google Cardboard is a structured piece of disposable or recyclable cardboard that holds your phone and covers your eyes— and it's one of the many compatible VR apps to deliver a customized, touchless virtual event experience to your attendees.
If virtual reality doesn't feel like the best fit for your experiential program, many organizations have found success with augmented reality. The most popular example of AR is probably Pokemon Go, the app that swept the globe back in the summer of 2016 and has proven its staying power ever since. AR is a novel experience and one that is infinitely customizable so you can be confident knowing that you are delivering a unique touchless experience to your event attendees. All your attendees will need is their cell phones and to have downloaded your event app to start their AR journey with you.
Touchless Payment
Thanks to the emergence in recent years of popular touchless payment options such as mobile wallets, key fobs, Apple Pay, and direct payment apps like Venmo and PayPal. If your event will provide opportunities for attendees to make purchases on-site, in addition to standard event fees that are typically done virtually and ahead of time, you will want to invest in contactless payment options for your event.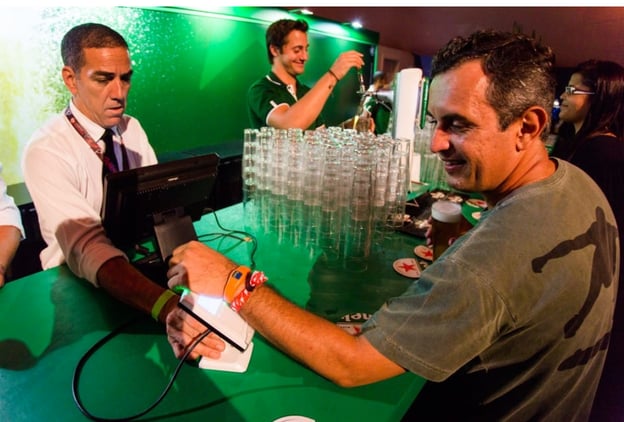 Source: Intellitix
One touchless payment technique that has gained popularity at events over the years is RFID wristbands. RFID wristbands are synced to guests' bank accounts upon entry to events and then used for all attendee payments for the duration of the event. Instead of taking the time to pull out your wallet at vendors or booths, simply tap your touchless payment wristband at checkout. In addition to being a safe way to make purchases, wristbands like the one by RFID have the power to reduce translation times down to 15 seconds, lowering wait times and shrinking lines at your event.
These RFID bands can be used to track events metrics as well, like attendee spending patterns and habits, which sessions were the most highly attended, or which event activations received the most traffic and interest. This type of touchless tech can provide invaluable information to leverage when designing your future events and will help build your ROI.
Touchless Registration
Let's start with the most simple step of the event process to transition into the realm of the touchless: event registration. Because pre-event registration can all be done online, all you need to do is keep registration and check-in digital to remove the need for attendees to ever use shared devices or materials during the process.
Depending on the tech-savviness of your event attendees, you have a few options when it comes to the tech you use for touchless registration. Your options include:
Online registration that gives attendees the option to choose time slots to check in on the day of the event, in order to reduce crowd sizes upon check-in.


An email confirmation sent ahead of the event with all necessary instructions for touchless protocol, so attendees come prepared and with their devices fully charged.


Self-scan check-in upon arrival at individual kiosks to eliminate the need for shared touchscreens or close face-to-face interactions between staff and attendees.


Digital badges with personalized QR codes for guests to use to sign in to sessions.


Speaking of QR codes, while they won't be the most unique aspect of your touchless event, they can serve as a very useful tool that you can creatively disperse through your event to be used as agendas and brochures and to access sponsor materials. To really take your use of QR codes to the next level, use them for brand activations. For example, a game such as an event-wide scavenger hunt to encourage attendees to integrate fully with the event space.
Touchless Event Best Practices
The success of your touchless event boils down to how intentionally and organically you implement touchless features, and then how well you communicate those features to your attendees. In the post-COVID-19 world, events should be designed with empathy more than ever. When creating touchless interactions, let the human experience be your guide. At the first in-person events since COVID-19, thoughtfully consider what event activities attendees will be willing to participate in and which ones would they rather avoid?

To ensure you are providing an inclusive touchless experience to attendees, keep these touchless event best practices in mind when planning your event:


Remove all high-touch traffic physical items and replace them with touchless counterparts wherever possible, such as replacing all handheld printed materials with QR codes or event apps that allow attendees to access all the info they need on their phones.


Plan every moment of your event with intention, this first wave of in-person events should have limited fluff and excess so as not to overwhelm attendees.


Make your event interactive, by focusing on fulfilling the needs of the other 4 senses once touch is off the table.


Weigh your tech investments, touchless tech can get expensive quickly— before going completely digital, be sure it's worth the investment and going to have a substantial payoff.


Remember to always adhere to all current CDC guidelines pertaining to COVID-19 protocols for in-person events.


For large events like conferences, consider developing your own event app to help guide attendees through the experience (apps are especially useful for hybrid events as a way to bridge the in-person and remote attendee experience).


As in-person events begin to ramp back up post-COVID-19, event strategists will have to be more creative than ever to abide by the world's new expectations for gathering. To make sure you are always putting your safest, most experiential foot forward with your events, download the DPEM Virtual Playbook today.