How Brands Can Create Community Building Events in a Socially Distanced World
Written By: Lindsay Sutherland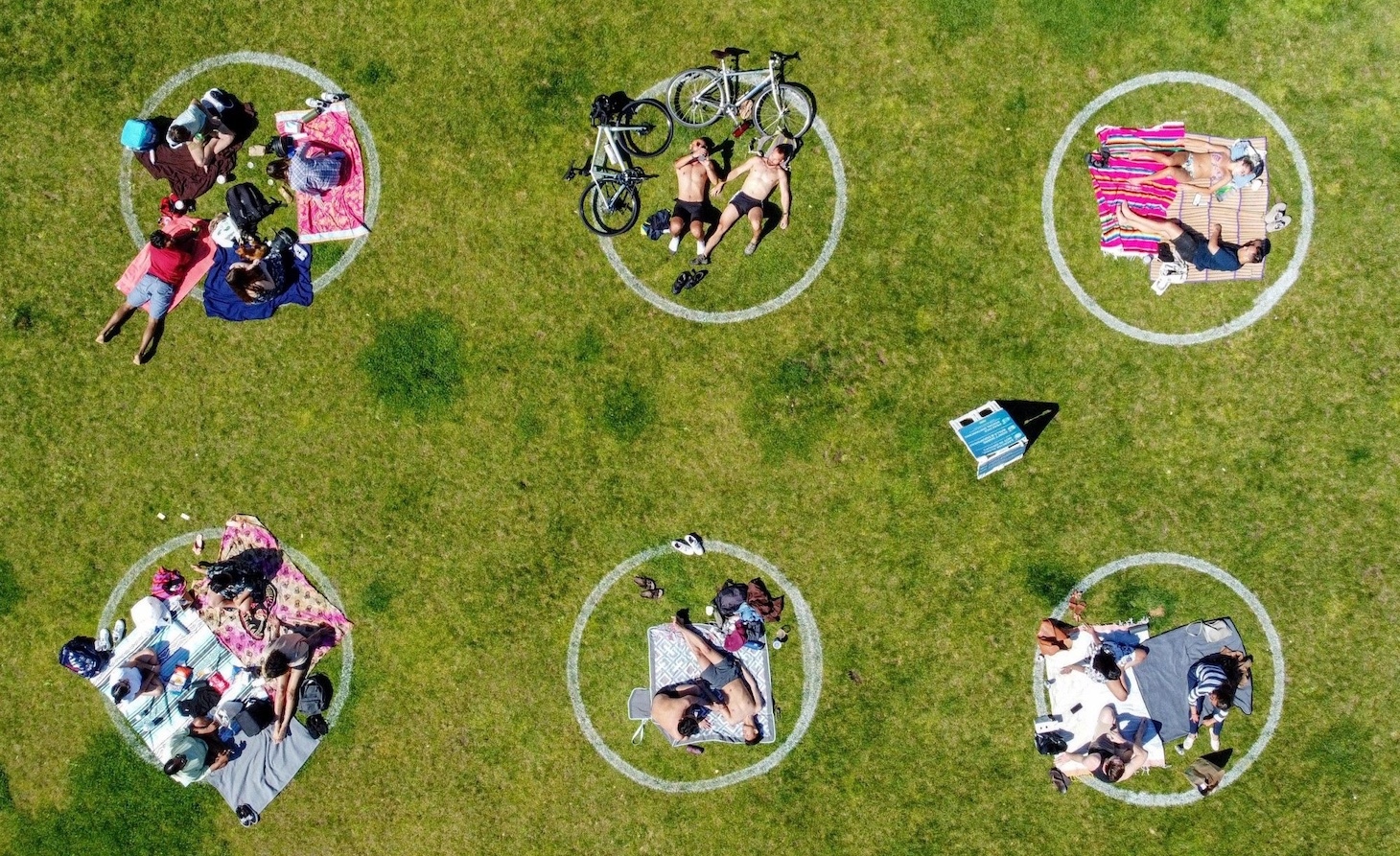 Photo Credit: Liu Guanguan / China News Service via Getty Images
Without a community, the main offering of a brand is their product. But we know that a brand is much more than the tangible objects or services they produce. Brands are living, breathing entities made up of a community of employees and followers alike that evolve and grow due to the communal involvement that it takes for them to exist. And the moment you engage with a brand— either by making a purchase or even just following one of their social media accounts— you are becoming a member of their community.
The best part about brand communities is that they are constantly evolving, but the work to grow them never stops. Sure, some brands soar through the zeitgeist with seemingly very little effort. But for the rest, community building is an essential component of developing brands that last and have true staying power. Community building not only creates a deeper connection with your audience than the relationship between provider and consumer, but it also leads to authentic engagement.
Harvard Business School found that customers who are fully connected to a brand (meaning an emotional connection) are 52% more valuable consumers than those whose relationship ends at "satisfied." And so— when brands put effort into truly connecting with their audience, it pays off.
Of course, community building for brands is just another component of a successful marketing strategy. But how do you engage your community after a year of isolation? Let's take a closer look at the importance of community building and how to create community-building events that are safe to attend for everyone.
How Can Brands Create Community Building Events?
When it comes to creating community-centered events, there are two different audiences you can aim to attract: the general public and your existing customers. While the former is designed to be more of a brand awareness event with the intention to attract a new audience that may not have any prior knowledge of your brand and the latter is designed to convert an audience composed of people who already have a relationship with your brand, the tactics you use to successfully throw community-building events are essentially the same.
Regardless of who your intended audience is, the driving force behind community-building events is to use your brand to support, educate, or better the community that your brand is a member of. Remember, no brand is an island unto itself. As a member of a community, it is your brand's responsibility to be a good neighbor and work to make your community a better place for everyone.
How does placemaking factor into community building?
For events, placemaking utilizes experiences and a community's existing assets to attract people and transform a space into a place by making it a better place to live, work, visit and invest in. For example, a sunscreen brand could host a summer-long placemaking event that brings people together to build community by creating outdoor destinations in otherwise unused areas for people to sunbathe and play where they give out sunscreen, hats, and other sun protection to members of the community. By transforming an underutilized space into something that benefits the community, placemaking events are more integrated directly into local communities than other types of events.
A placemaking approach allows event strategists to integrate community building directly into the ethos of their branded events. Instead of begrudgingly navigating landmarks, structures, and local structures when planning your event, placemaking is a way to incorporate all of the unique local aspects of your community directly into the event itself. Ultimately, without a placemaking mindset, your community-building events will have less of a positive impact on your community, wherever they are.
Benefits of Taking the Placemaking Approach to Community Building Events
Placemaking events allow brands to further integrate themselves into their community and become a local necessity.


Placemaking events can be used to help restore or refurbish unused or underused spaces in your community.


Placemaking events allow for more inclusive events because audiences are attending them to enrich their own community.


Placemaking events are public so are able to attract a more diverse demographic of audience members than private events.


Placemaking events communicate to your community that you are a brand that cares about them by investing in their local environment.
Social Distancing Best Practices for Community Building Events
As we move closer and closer toward a post-COVID-19 world, brands must remain mindful about any and all state-mandated health and safety guidelines for events. Post-pandemic, people care about safety more than ever, and simply throwing an event won't be enough to entice people to attend, you also need to ensure attendees that your event will be a safe environment.
Incorporating spacing and social distancing into your event is a must for guest comfort, and will drive attendees' willingness to return to your events in the future. It is the role of experiential planners to do their part in rebuilding trust in in-person events again so that the industry can get back on its feet as soon as possible. The key is to make safety requirements and social distancing an intentional part of your event's design. And remember, states are opening back up at different speeds. When designing your event, keep in mind all local and state social distancing guidelines.


Additional social distancing best practices for community building events include:
Make mandatory distanced seating look intentional by creating seating pods based on theme or interest to keep attendees dispersed, instead of randomly spreading out chairs.


Move indoor gatherings outside, like hosting a concert or other entertainment outside in local parks.


Designing activities that can be enjoyed by attendees without requiring them to leave their cars, like creating drive-in experiences.


Convert outdoor spaces into opportunities for connection, like building co-working style setups outside (as long as there is still access to WiFi!).


Use clear social distancing signage and incorporate multiple languages to cater to your community.


Provide multiple, distanced sanitation stations and ample spaces for eating and drinking that allow for distancing.


Empower staff with language and messaging to enforce local social distancing regulations.
How Brands Have Built Community While Social Distancing
One of the most essential components of designing community-building events is the brand's ability to integrate the community into the event. The goal isn't to create events that are simply for the community but to design events that are also by the community. Let's take a look at how three top companies created community-building events while abiding by all social distancing guidelines.
Pier 70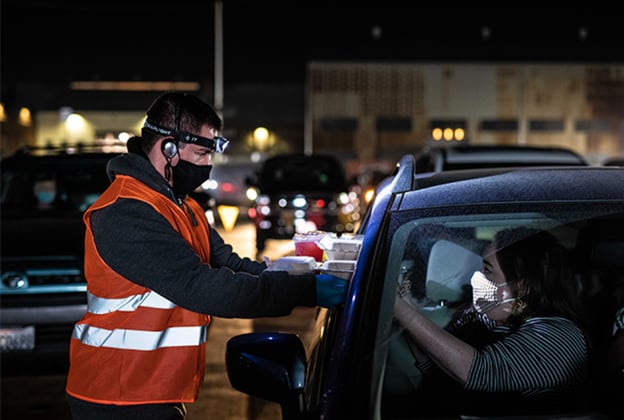 Source: DPEM
Throughout the pandemic, the new urban development Pier 70 worked overtime to continue building community through placemaking, creating experiential engagements that were an authentic representation of the brand to ultimately making it a more vibrant and sought-after destination. The primary component of their placemaking strategy was to integrate live events into their brand development with their drive-in movie series.
This multi-weekend event series turned out to be a successful opportunity for Pier 70 to introduce themselves to their community while supporting local cultural and hospitality businesses along the way. As part of their efforts to drive awareness and build community, Pier 70 offered guests the opportunity to select meals from local eateries to be delivered to their cars while watching movies supplied by local theaters.
In line with their mission to host events for the good of their community, Pier 70 asked these theaters to curate a specialized lineup of films that focused on equity and inclusion. During a socially distanced time, Pier 70 was able to create a fun, inclusive, impactful event that all attendees could enjoy safely.
ExpreScion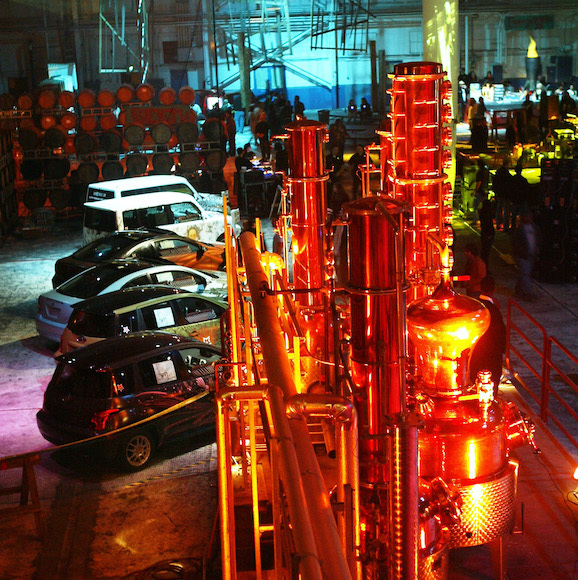 Source: DPEM
Generating and promoting an active Scion community, Scion partnered with DPEM to create the ExpreScion event that celebrated Toyota Scion owners and their community as part of an influencer sales program. The event showcased the self-expression of Scion owners and their emerging communities of cultural relevance through rich activations like:


A custom radio station accessible through attendees' car radios so their cars became a part of the event's sound system


Owner-designed car displays to showcase the community's creativity and self-expression, which became a part of the event's decor


Performances by musicians and entertainers to reinforce a shared cultural experience


Living lounges and media gaming to provide areas for engagement amongst attendees


By bringing the youthful Scion brand to life, Toyota could connect with its audience on a more intimate, local level and build their community.
Peloton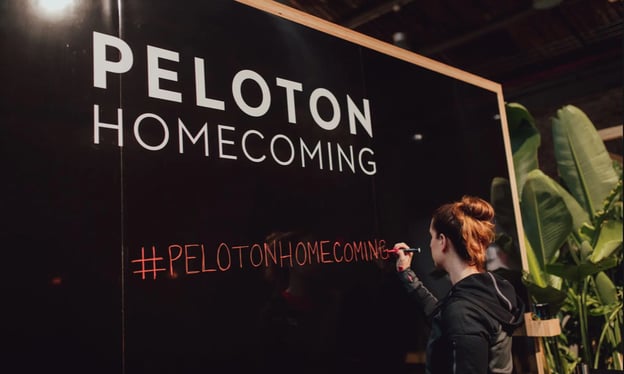 Source: Pelo Buddy
Although stationary cycling startup Peloton was born in 2012, it wasn't until the pandemic forced millions of active people into their homes in 2020 that they really took off. As a product designed to be used alone and in the home— users are members of a highly active and engaging community thanks to live classes, energetic cycling instructors, and a live global leaderboard— creating an in-person event for Peloton seems like a massive undertaking.
Users who feel such a strong connection to this community travel far and wide to gather at Peloton Homecoming, an in-person event held in the brand's New York studio that began in 2014.
The event offers live classes ranging from cycling and yoga, to running and boot camps. Topped off with a keynote from the CEO and ample opportunities for mingling with other Peloton enthusiasts, this homecoming event was the ideal way for Peloton users to take their shared passion of the brand offline and unite as members of their real-world community. As far as successful brand communities go, the product sales speak for themselves, Peloton's most recent fiscal third-quarter sales grew 141%.
Star Wars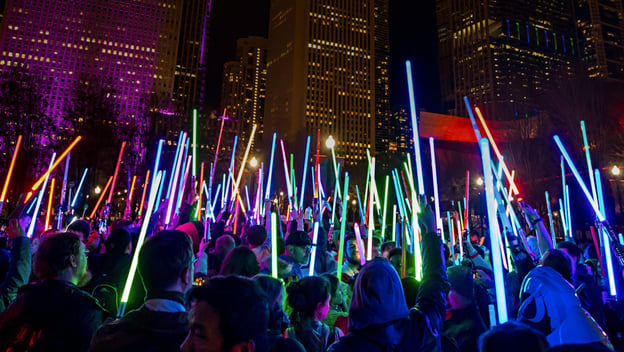 Source: Star Wars
As one of the most popular brands in the world, Star Wars knew that it couldn't take a break from events even during the age of social distancing. In an effort to throw events that keep the Star Wars community alive after all of these years of dedicated fandom, the brand has worked to transform existing experiential Star Wars experiences into events full of touchless and virtual activations. Although the biggest Star Wars event of the year— the annual Star Wars Celebration— has been postponed until May 2022, there are many safe ways to engage with the brand this year, such as:


Visiting Star Wars: Galaxy's Edge at Walt Disney World or Disneyland through in-person social distancing measures


Run in the Star Wars Rival Run Half Marathon at Disneyworld


Visit Rancho Obi-Wan in a private group, a museum with one of the largest collections of Star Wars memorabilia out there


See the Yoda Fountain at the Letterman Digital Arts Center, located in the middle of a public green space open to the community


When you choose to run community-building events for your brand, think of the community you are serving as the most essential stakeholder. Creating events for communities, by communities is the best way for brands to make a lasting impact. Think of the problem you're trying to solve, then address the creative ways you can help support the people around you by solving it.
If you are looking for help when it comes to throwing your next community-building event, we here at DPEM are ready to strategize and pitch some creative ideas— let's talk.