Experiential Marketing Event Examples and Event Types
Written By: Kyra Derdivanis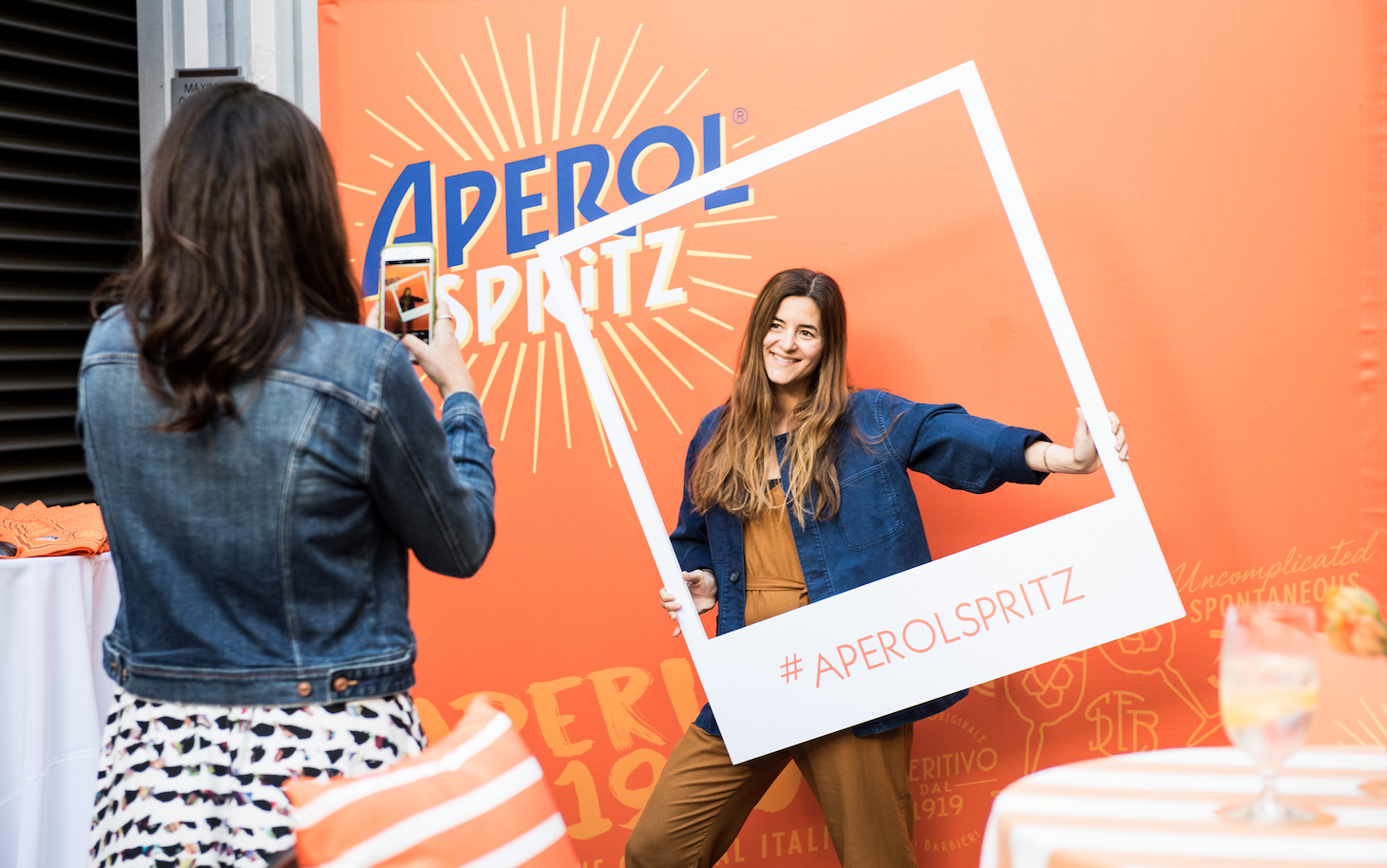 Image: Campari's Aperol Summer Cocktail Series (Gamma Nine Photography)
After a year of mandatory virtual events and remote kickoffs, this year's events are shaping up to be more experiential than ever before. Following a year of sitting behind a computer screen and using blue light glasses to help with strain and headaches, people are embracing creative ways to engage. For example, rather than a traditional donor event that would typically include a silent auction, what about a storytelling event that pulls back the curtain and gives guests an inside look at the human stories behind the organization's achievements?
Whether your experiential events are designed to extend a virtual experience beyond the screen, incorporate in-person elements, or be a hybrid blend of the two, telling your brand story and connecting people through immersive experiences creates a lasting impact.
How are brands successfully using experiential events?
Brands have been reaching deep into their creative toolboxes to run experiential events for years to produce some truly innovative events. The best experiential events are intuitive to their audience's needs, adaptable to shifting event atmospheres, and push the envelope for what's possible to achieve with a brand event.

Let's take a look at how some of these brands pulled off the seemingly impossible:

Airbnb Open
The best internal experiential events embrace a company's vision and find an enticing, original way to bring it to life. A standout example of a brand successfully re-imagining what is possible in terms of internal events, Airbnb Open often feels to its attendees (over 7,000 members of the Airbnb community) more like a festival than a conference. In line with their ethos as a brand, year after year Airbnb Open puts their event budget into action, carrying out their mission to create "connection and belonging" with a "creatively led" team. The result is a one of a kind in-person event that embraces the company's lively, community-focused spirit.



UCSF Saturday Night Stories
Some of the most successful experiential events incorporate a high degree of storytelling in their design in order to make the brand real and relatable for their audience. One example of a brand taking this rule to heart is UCSF Saturday Night Stories— a completely virtual event with engagement opportunities similar to typical in-person events. By using this event as an opportunity to highlight the human stories behind UCSF, it achieved its goal of illustrating the University's impact and bonding with donors on an emotional level.



Benefit Cosmetics National Brow Day Stunt
One easy way to boost engagement levels of experiential events is to make it fun. Of course, the idea of creating fun events is a no-brainer. But this seemingly simple feat can be more difficult than you think. It helps when you are creating the event for a company with "fun" built right into their mission statement. Benefit Cosmetics is a playful, high-energy brand so in creating their National Brow Day Stunt we thought there was no better way to highlight this aspect than by inviting their consumers to be a part of their story to break a world record together. Not only was the Benefit Cosmetics National Brow Day Stunt a successful promotion, but it was also a very memorable experience that drove connection for the Benefit Cosmetics community worldwide.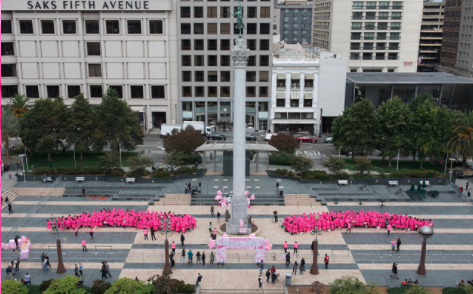 Benefit's National Brow Day: An experiential marketing stunt
State Farm's Neighborhood of Good
Experiential events have a variety of purposes: to deliver information, to drive community connection, to tell brand stories. An example of an experiential event designed to highlight a good cause, State Farm's Neighborhood of Good helps connect people with volunteering opportunities for causes that matter to them. By taking their traveling neighborhood on the road, State Farm brought music festival attendees the opportunity to give back to their community and connect with fellow community-minded folks.

With 90% of the next generation of employees (Gen Z) believing that companies should act to support social and environmental issues, and 82% of employees wanting a chance to volunteer with coworkers in a work-sponsored event, today's workers want to be involved in improving their communities.



McAfee at CES
CES is a high-energy industry event and standing out at tradeshows and conferences of this scale is a challenge. A great example of a creative B2B activation, McAfee set up shop at CES off the show floor (a shock, we know.) By opting for a higher-impact location on the attendee route to the show floor, they saw more exposure and had access to more space to connect with prospects.

Check out a quick peek of the pop-up McAfee shop in Vegas.
Ready to commit to an experiential event for your organization but don't know where to start? Let's talk. Give us a few details on your challenge and we'll help navigate your next event together. Contact us —>
What are different types of experiential events?
When you choose to use an interactive event to engage with your community, you are entering into an event space that allows for endless possibilities. No two experiential events are designed to fulfill the same purpose or engage with the same audience, making them the ultimate creative challenge that can be tailored to your target audience's needs.
The first step in the creative ideation process involves choosing your event format. Think of the type of experiential event you create as the container for the experience, once you choose the shape and size of your event you are then able to fill it with any unique, branded ingredients you wish.
The most common types of experiential events are:
Internal Experiences
Internal experiential events (like the Airbnb Open) are typically employee engagement events, kick-off events, or annual company events. These corporate experiences have come to be seen as highly engaging by the savvy companies that use them to champion company values, expectations, and a sense of character.
Donor Engagement Events
Donor engagement experiences (like UCSF Saturday Night Stories) are key events for nonprofits to provide value to their constituents, build community, and support their initiatives. With 25% of donors completing their pledges using a mobile device and another 25% using mobile to find new nonprofits, virtual and hybrid experiences are a natural addition to the annual event calendar for nonprofit organizations.
Roadshows
Roadshows, like Campari's Aperol Summer Cocktail Series, are opportunities for brands to intimately connect with their audiences in different markets by traveling to multiple locations over a condensed period of time. Roadshows are a great format for B2C events like product launches and brand awareness experiences, or for B2B companies with sales events.
When Netflix launched their Gilmore Girls reboot in 2016, they commandeered hundreds of local coffee shops across the U.S and turned them into everyone's favorite Stars Hollow hang— Luke's Diner— to promote the show. (Complete with the yellow sign, a gruff host, and lines down the street.)

By giving fans an opportunity to live a day in the life of their favorite character and making news headlines for the buzz, Netflix successfully hyped up the show, raised brand awareness, and created a fun memory for the thousands who showed up and got to talk all things Gilmore Girls. (I'm Team Jess if anyone was wondering.)
Media Stunts
Media stunt events (like the Benefit Brow stunt) are a buzz-worthy way to bring attention to your brand in a fresh, enticing way. Along with social media engagement, media stunts can expand brand reach and build brand awareness exponentially.
Digital Storytelling Events or Panels
Digital storytelling (another facet of the UCSF event) entails meeting audiences where they are on the digital platforms and devices they are already using, and subverting their virtual engagement to introduce your brand to them in a new way.

Variety's upcoming Variety Virtual TV Fest is a digital storytelling event featuring a reunion roundtable with the cast of New Girl along with more intimate, 1:1 conversations with stars like Bethenny Frankel and a discussion with the women in leadership of NBC Universal on brand vision. With a combination of larger, medium, and more intimate events, different styles of storytelling and conversation, and workshop-style events, consumers and employees alike can learn and participate in the content together.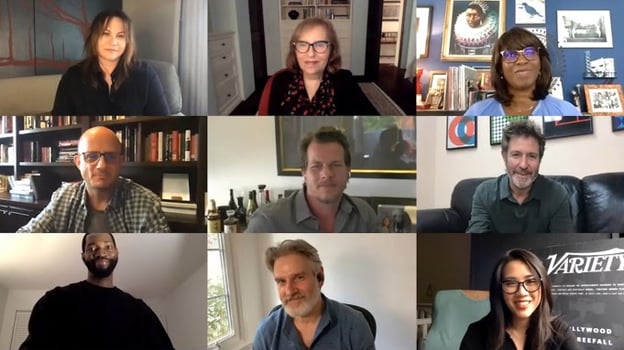 Variety's Virtual TV Festival 2020, A Night in the Writers' Room Storytelling Panel (Image: Variety)
Brand Activations and Sponsorships
Brand activations and sponsorships (like State Farm's Neighborhood of Good) are typically more extravagant and designed to connect with a larger audience through experience, like music festivals, trade shows, conferences, and even sporting events.
Twitch Rivals, a competitive esports tournament on popular video game streaming platform Twitch, has corporate sponsors like Doritos and Dunkin' who partner with them to put on broadcasts and events in the tournament. With 78K peak viewers at the Twitch Rivals Streamer Bowl II earlier this year and a $250K donation to charity as part of the prize package, sponsored events can be incredible long-term partnerships for brands.
Influencer Events
Influencer events like the Benefit Brow Day Stunt feature select influencers participating in brand partnerships and can make campaigns even more successful by broadcasting out to the influencers' networks as well.
Aerie often hosts events that are educational, informative, and empowering for their audience of real women. By partnering with their Aerie Real Ambassadors, many of whom are influencers, their events like new store openings or their first ever AerieREAL Summit featuring influencer/athlete Aly Raisman can be more impactful, building their brand mission and community of loyal customers.
The AerieREAL Summit, an influencer event/empowerment seminar (Image: Aerie)
Product Launches and Retail Installations
Retail installations and product launches that incorporate distinctive brand experiences for the audience stand apart from static product launches. When PUMA launched their new lacing system, they invited VIPs and sneaker enthusiasts to mingle with top athletes and learn more about the product. By driving hype and offering an opportunity to experience the product and learn more about it, attendees are motivated to share their experience with their audience.
Are you looking to put an experiential spin on your next virtual event? Check out How We Build Your Virtual Event right here.
B2B Experiential Events vs. B2C Experiential Events

Typically, the common examples of experiential events are B2C organizations running events that speak to attracting consumers for purchases. However, B2B organizations are just as active in the experiential event space and also require effective ways to build experience and emotional connections with their customers. Providing memorable moments to your customers (or potential new customers) is crucial in order to stand out amongst competitors and cultivate brand loyalty, no matter the industry.
The secret to a successful B2B experiential event lies in how well companies bring immersive experiences to their business buyers. In response to well-thought-out demos or brand events, potential buyers grow an appreciation for the organization and can better understand the value they bring. To put it simply, humans have an innate desire to break from their routines and try new things. B2B experiential marketing delivers that opportunity within the package of a brand's story.
There are many reasons for B2B brands to use experiential events and marketing— for example, as part of a larger strategy to increase audience engagement or to generate new leads. But today's buyer is looking for more than just a good quality service or product— they want a more in-depth brand relationship that feels more like a partnership than anything else. They want to believe in your brand and your organization's mission.
When designing an event for one of your B2B clients, keep your client's brand at top of mind. Think about how your contribution will position your client's products or services to be more interesting, relatable, and valuable to their end-user, and in turn, you'll deepen the audience-brand relationship.
Experiential Events in 2021
2020 was the year that the COVID-19 pandemic required all events to be virtual. In 2021, virtual events are here to stay— but with new, in-person possibilities. This global shift back to in-person will lead to some extremely unique experiential events. Here's a peek at some of the upcoming events that are reinventing what it means to be experiential in 2021.
Events in 2021 are going to be more experiential than ever before, and in ways we haven't even thought up yet. To be sure you're factoring in virtual engagement strategies with upcoming events, download the DPEM Virtual Playbook (click the image below).