DPEM's Proven Virtual Engagement Strategies
Written By: Lindsay Sutherland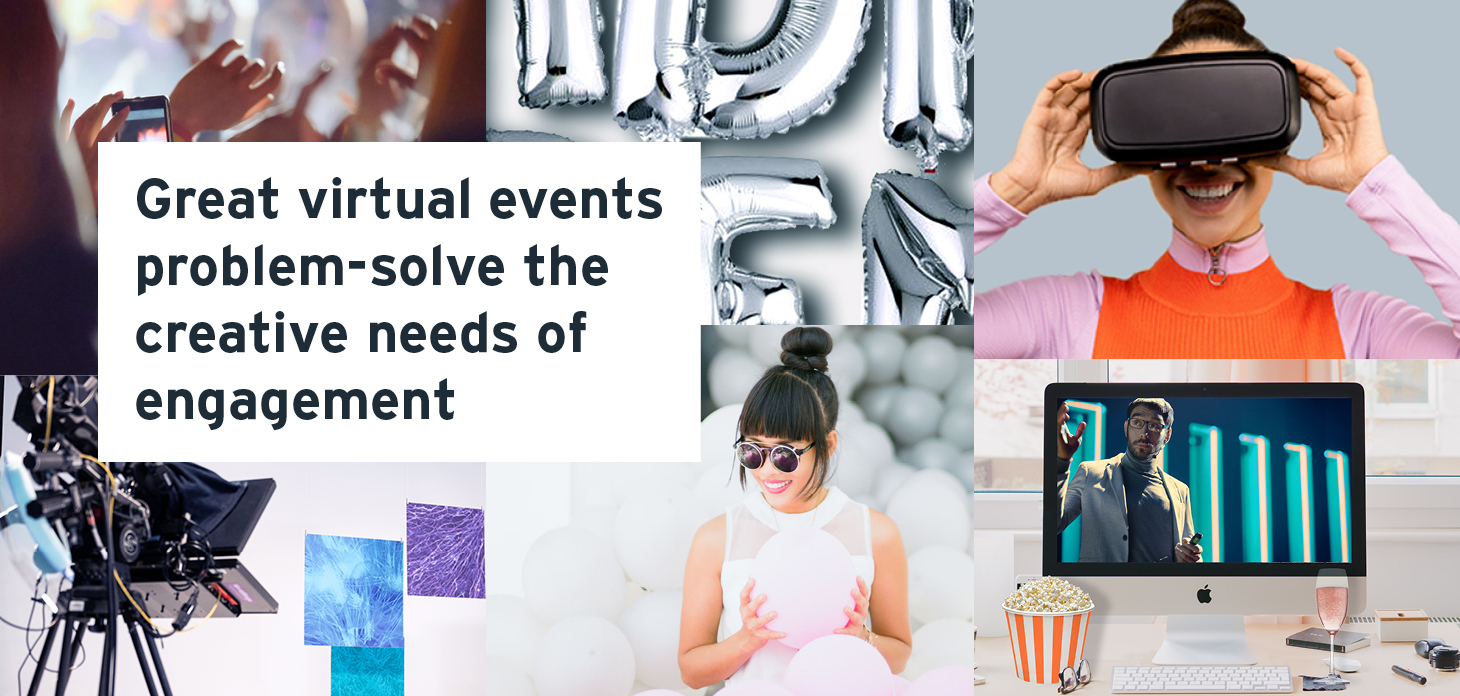 Each project is a meaningful journey to reach audiences and build long-lasting connections. By focusing on the end goal and working backward to craft key messaging, we help you build experiences that truly engage your audiences. Based on our experience working with clients on their virtual events, here are our proven engagement strategies:

Lean into what virtual events can do that live events cannot: scale up attendees, develop on-demand content, and bring multiple time zones together. Start by mapping the attendee journey and list all the points of engagement that will create positive emotional connections. What can you offer guests exclusively in the virtual space? Content is the most valuable asset in your program, so lead with creativity. Bring in big celebrity keynotes to give attendees a front-row seat to a big name, create surprise gift giveaways throughout the program, or extend the stories after the event in a podcast.



Virtual events should be designed for the screen, accounting for every second, so content is the most valuable asset in your program. Work with presenters to understand the virtual environment and to be engaging without an in-person audience - pre-event training is key in learning techniques that engage the audience effectively when presenting with no real-time feedback.

Time is your ally. Expand the content over several days or weeks vs. a single packed day. Keep sessions shorter than you would for a live event - each block of content should be 15-30 minutes. Break up presentations and speakers with different formats: keynotes, panel discussions, breakouts, video streaming, attendee participation, social programming, networking, gaming, etc.



This year has been difficult for so many communities. While your event is designed to be a positive experience for attendees, expand that impact beyond just those who attend and create an opportunity to give back. Have executives and leadership compete in a friendly competition to win money for their charity of choice. Give guests a chance to sponsor a cause and build on the movement that your event started. Create socially responsible session tracks to bring attendees into the conversation.



Does your event have decent attendance, but you are not seeing a strong response? Architect an engagement strategy that creates dialogue and gets to the heart of what motivates your audience. Identify what will resonate with them and keep them connected from the save the date all the way to the post-event communications. Look out for key themes and ideas when learning about your audience and align those elements with your goals. What throughline connects them? What story are you telling your attendees? How can that narrative be woven into all parts of your event and develop through each touchpoint?



Where a live event utilizes all five senses, a virtual event relies only on guests' eyes and ears in their work-from-home environment. Virtual events need to be designed around the computer screen for a distractible audience, keeping content as exciting and interactive as possible, while also keeping it short and sweet. Think about it like broadcast TV - create fun, light-hearted commercial breaks between sessions, keep presentations short and sweet, treat branding moments like attention-grabbing ad spots.

Leverage all of your platform's engagement tools, and tie them into your overarching theme and story. Experience is everything and this is where virtual events offer incredible possibilities. Networking breakouts can be anchored around fun games like pub trivia and two-truths-and-a-lie to create intimacy and connection within those smaller groups. Wrap up general sessions with quizzes and polls and award points to attendees when they participate, creating a virtual swag store where they can cash in at the end of the event.



While you are ideating your programming, research potential virtual platforms that are appropriate for your estimated audience size, event concept, and desired functionality. Many virtual event platforms are experiencing request surges due to the increase of virtual event needs, so confirm your vendor as early as possible.