Creating Hybrid Brand Experiences with Boxed Events
Written By: Kyra Derdivanis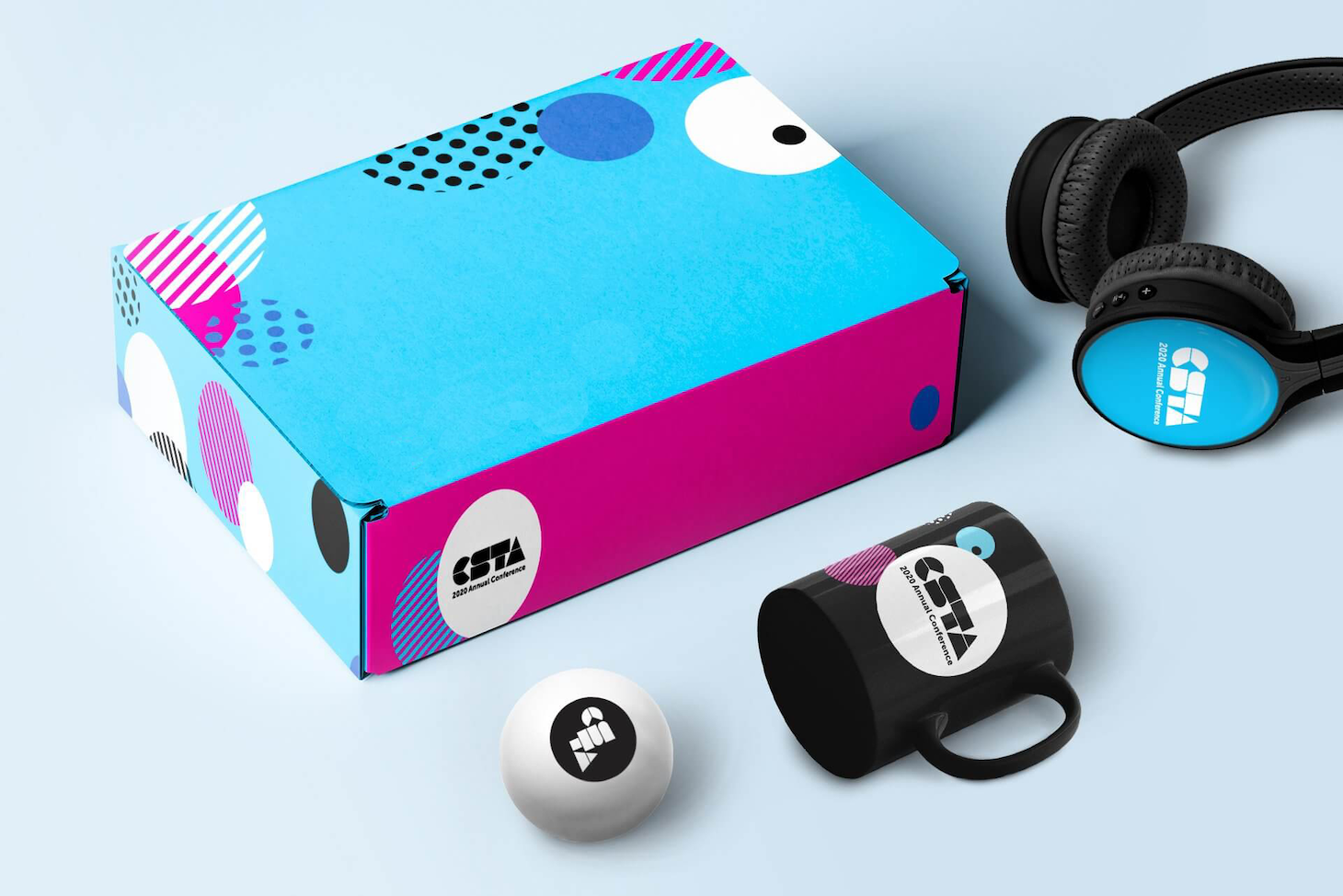 Image: Delta Marketing
As the world begins its return to normalcy, many of us are carefully navigating the hybrid middle ground that we currently occupy. The past year saw an embrace of completely virtual experiences, fueled by our inability to gather in person. As vaccinations increase and COVID cases go down we move closer to being able to attend in-person events like we used to. But for now, we are living in a hybrid world— an opportunity we would all be wise to embrace.
A creative approach to creating fully experiential hybrid experiences is with boxed events. Boxed events — a curated package sent to attendees to enhance the virtual experience or replace it all together — allow brands to create unique hybrid events that connect with their audience outside of the screen, adding a tangible component, or turn their virtual events into experiences where attendees can participate in a physical way. Boxed events are a way for brands to push the envelope of what can be created, by connecting the audience to each other and the event in a way that encourages exploration.
Boxed events tell a story. This isn't simply an excuse to send cookies and coffee to attendees to munch on during your event, but it's an opportunity to immerse your attendees with a deeper sense of inclusion. By offering attendees a boxed event that puts them face to face with curated items that are connected to your brand you are giving them a meaningful look behind the curtain at what values your brand holds, and leaving them with a reminder of your organization.
In a hybrid world, boxed events allow you to take experiential moments to the next level.
Understanding Boxed Experiences
The key to creating meaningful boxed experiences is to stay true to your brand and the mission of your event. This is not the time to pack up and ship out fun swag and call it a day. Instead, take this as an opportunity to combine elements of your event into one box that tells the overarching story of your event. Every item in your box should have a clear and direct purpose for being there so that attendees can purposefully interact with the contents of the boxed event alongside each other and within the context of the full event.
Event-In-A-Box
The first type of boxed event is when attendees are given a completely self-contained experience, literally in a box. This delivered box will give attendees practically everything they need to enjoy the event. Outside of the box itself, they are often paired with some kind of other engagement, like tuning in to a virtual cooking event to learn how to cook with the ingredients you received.
Source: BizBash


Or, get attendees outside and moving, guided by a map included in the box. For brands that want to keep attendees engaged in fun and interactive ways— as opposed to sitting them through another typical virtual event— boxed events like these are a great way to provide attendees with a unique hybrid event experience.
Boxed Experience Enhancers
The other type of boxed event is experience enhancers. In this case, the box acts more as a companion to the event rather than being the totality of the event itself. The goal of experience enhancers is to provide attendees with fun items that enhance the larger hybrid event experience.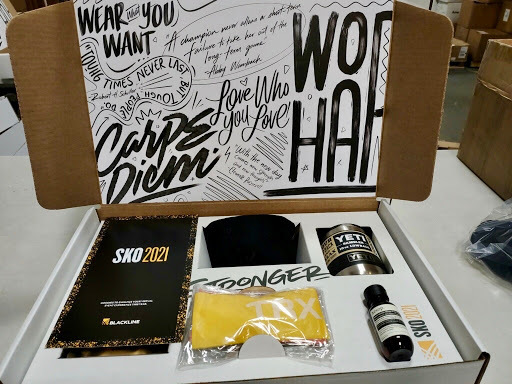 Source: DPEM

For example, we created a pre-event mailer box for BlackLine to drive momentum toward their event and reinforce their "Stronger" theme in the process. All of the elements in the box tied back to giving attendee strength and making them stronger. Ultimately, the boxed experience enhancer should be both an experience in and of itself while also being a supporting player over the course of your event.
To review the ways to host a virtual event that impacts your guests, review the Virtual Event Playbook here →
Unpacking the Steps of a Boxed Event
Whether you are using an event-in-a-box or an experience enhancer, the lifespan of your hybrid boxed event is the same. Because boxed events are used to take hybrid and virtual experiences to a new level, the following steps should be incorporated into your complete event strategy.
Step One
The experience begins when attendees receive their box. The graphics and branding on the box itself should be designed to start the story in an effort to really bring the concept to life. The graphics should set the tone for the experience and establish the creative treatment of the event.
Step Two
The attendees open their box to find a collection of exciting items that connect your theme, tell the brand story, create a call to action for the event, and prompt your attendees to begin engaging in the event. Remember, the key is to fill the box with items that are not only to be used during the event but will be relevant to your attendees and useful after the event.
Step Three
Now that attendees have started interacting with the contents of their box it's time to take the experience beyond the box. One popular way to do this is by creating a call to action to send in photos and videos of attendees experiencing and enjoying your event in a box. Along with remarks from stakeholders, the attendee submitted photos and videos that can be used to create an engagement video that gets sent out as a post-event follow-up.
Best Practices for Creating a Successful Boxed Experience
Boxed experience concepts should be a mindful reflection of the lifestyle of your attendees, concepts should be designed to be useful whether attendees are alone, with friends, or with family/kids.


Contents of boxes should have an evergreen quality that provides usefulness beyond just this experience. Give them something they will not just throw away.


In order to create a lasting impact with your boxed event, the package and everything in it should feel unique, custom, and high-quality.


Boxed event concepts should feel cohesive, rather than a collection of random branded items. At all times the connection that objects have to your event and the value they provide to your attendees should be clear.


The event-in-a-box concept should connect back to the theme, goal, or objective of your event. The concepts need to deliver on the promise of the event in the way they feel and everything from the shipping box, to product packaging and any cards or instructions, should all act as valuable touchpoints to your story.


If you want to include branded items, include branding on packaging or in a clever way on the project for discretion purposes such as branding the zipper pull instead of the jacket itself.


Offer clients the choice to include branded patches and stickers, to allow employees the choice of where they want to wear the brand.
3 Innovative Brand Boxed Experiences
Now that you're hooked on creating and delivering a box that's going to inspire and delight your audience, here are some examples of brands that have nailed capturing the fun of an activity box in a memorable way.
YouTube Brandcast Custom Pizza Kit
As a pivot from their traditional upscale Brandcast event, YouTube delivered custom pizza-making kits to viewers to enjoy that were customized to their preferences and included a few "events."
Recipients got a delivery with boxes labeled "Take," "Make," and "Bake" with ingredients to make DIY pizzas and enjoy other related gadgets. Everything included related back to having a cozy, personal at-home pizza night while watching the presentation.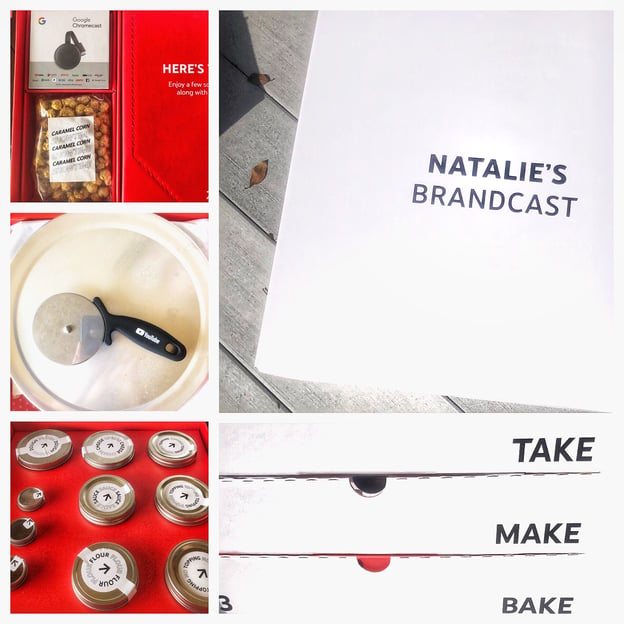 Source: @Nattidd on Twitter
TNT Alienist Premiere Murder Mystery Box Party
For the hit show the Alienist's season two premiere, they hosted a virtual event with a boxed experience enhancer— a murder mystery after party. The boxed experience included a journal to follow clues, a magnifying glass, and related trinkets or tokens for each character.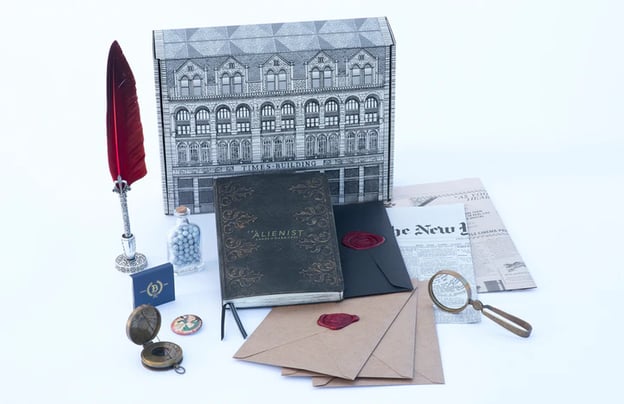 Source: BizBash

NASCAR Fuel for Business Box
For NASCAR's virtual meeting, they created boxed experience enhancers for attendees, labeled as half for work and half for play. They provided a printed agenda, notebook, and other tools to stay engaged during the presentation, along with some treats for breaks from the event.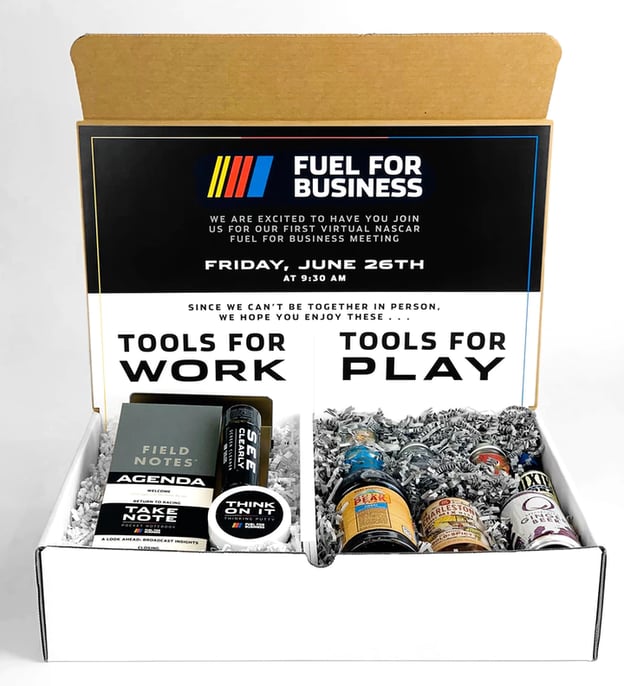 Source: BizBash
Coming up with creative ways to connect with your audience is a challenge. Use surveys and polls, even simply social media polls to learn what your audience likes, then use that personalization to deliver next-level brand experiences. When you create an Insta-worthy experience in a box, it doubles as a special moment for your attendees and a boost for brand life when your audience can't help but share.
If you'd like to chat through ideas for boxed experiences or think about how they could factor into your next employee or customer engagement event, we'd love to hear from you.