Breaking Down the Choice Between In-House or Agency for Event Production: The Case for Hiring Event Production Agencies in 2021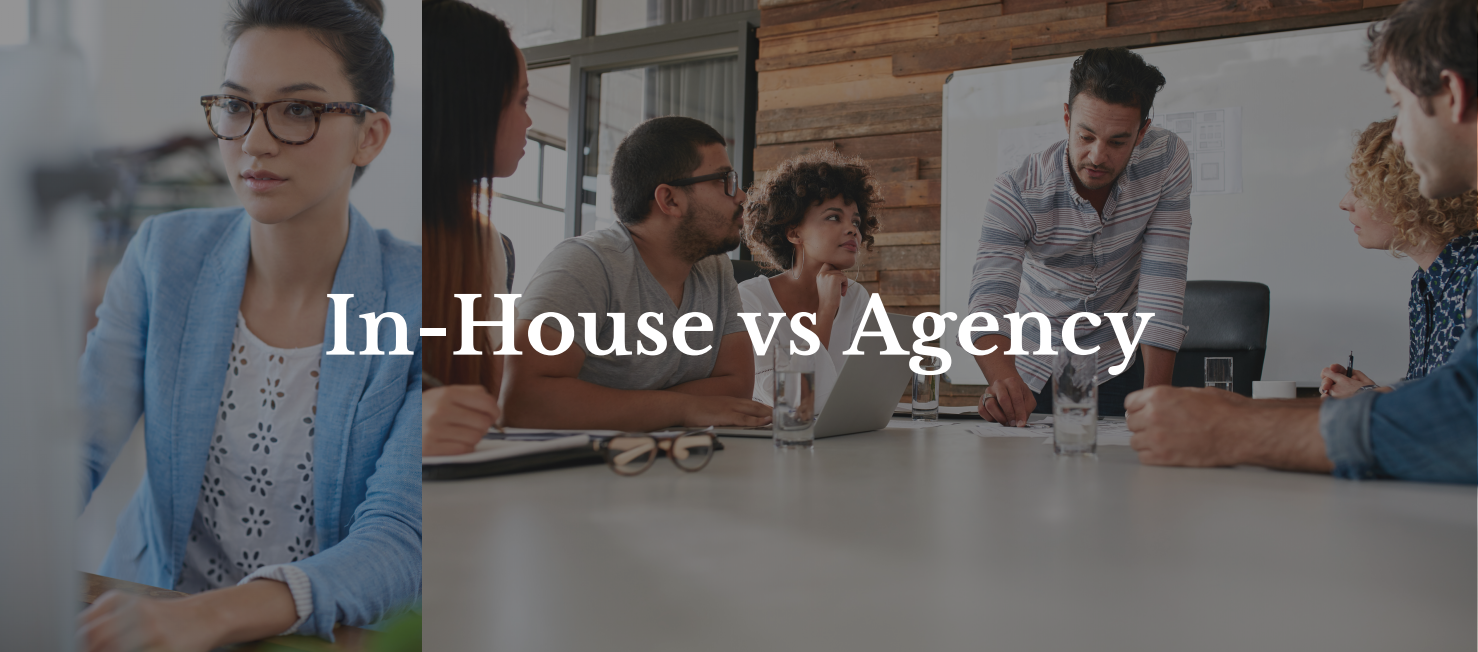 Experiential marketing has grown into an entire industry of its own, running the gamut from marketing events like consumer conferences and brand activations to pop-up shops and employee engagement experiences. Events themselves have also changed and so has the environment and attitude surrounding large gatherings in general, with hybrid events on the rise in 2021. Marketing professionals report the main part of their strategy for events in 2021 is incorporating tools to engage virtual attendees.
Now, the most impactful events incorporate experiential elements, virtual elements, and more of a focus on engagement than ever before. More and more teams are embracing events as a strategy for lead gen, employee retention, brand awareness, and community building on a more regular basis than they did before. So, in turn, event planners have had to become experiential event producers, keeping up with technology, safety, scale, and timelines all while being creative and cutting-edge with ideas.
With changing attendee needs driving strategy and an ever-growing need for analytics and event ROI reporting, event management is becoming increasingly more complex by the month. For those with little experience producing events, who are looking to embrace more experiential events, or who want to ramp up the creativity and ROI-driven events, the question then comes up: How do you choose between using your internal resources versus hiring an experiential events agency?
As the world opens back up to accommodate larger in-person events than this past year allowed, more and more companies are turning to agencies to run their hybrid, virtual, and in-person events in 2021. Let's take a look at why so many companies are quick to outsource their event production to agencies, and determine if your organization is better suited for in-house event management.
The Case for Event Agencies
The primary reason why companies outsource their event management to experienced agencies is just that: they are putting their event in the hands of experts. Just like how many organizations choose to outsource their accounting or HR efforts to agencies— simply put, it is oftentimes just easier for companies to turn to trusted third party resources than to put event planning in the hands of current employees who may not have any experience, or the right experience, planning events.
How do agencies maintain client mission and vision?
But what about one of the primary cases for in-house event production? Many clients ask, "For an event tailored to our company's unique sensibility, don't we need one of our own to design the event?" Not necessarily. When you choose to work with an agency (like DPEM) you are entering into a professional, highly collaborative partnership. These agencies truly act as an extension of your team. Your chosen agency will wear your brand, adapting to your specific goals and audience and using their vast experience, to take you beyond where you would be able to take yourself. They bring the expertise and knowledge that you may not have, letting you focus on what you do best, and elevating the other elements that you may not have covered internally, like experience design, event logistics, ability to scale, etc.
Comprehensive event execution (that delivers strategy, creative, and production) cannot be learned overnight. There is significant value in the capacity to truly understand the client company (their brand, audience, and goals) and to translate their vision into reality, all while navigating the challenges and restrictions that come with the job. Skilled agencies think like their client's own team members throughout the entire project.
To think outside of the typical confines of how the masses approach event production— especially in an industry that is evolving rapidly from trends and best practices to safety guidelines— an agency will be able to bring an outsider's point of view to your event. They have an ability to provide a robust strategic and creative layer to projects paired with high-quality execution, which is a benefit that only agencies can provide.
Offloading Complex Event Execution
Many companies turn to agencies due to internal resource issues: producing an event will be an overwhelming undertaking for their team and they have staff capacity constraints.
Concerning the emotional side of event production— agencies act as the calm in the storm, the guiding light throughout the journey. It's important to have someone focus on the project without the distractions of regular, and competing, company/department activities and operations.
Event professionals have one of the most stressful jobs, so by partnering with a trusted agency, they can offload some of that stress. Agencies make sure every one of their clients feels peace of mind by establishing a feeling of trust, expertise, and relief, by presenting information and visuals that are clear, simple, clean, and easy to navigate.
Due to their years of expertise, agencies have a logistical foresight and proactive approach to create a natural path to thoughtful and intentional results. They focus on what will provide the most long-term impact for your event while being detail-oriented mavens, ensuring no stone is left unturned. Agencies are not here to make your event happen, they're here to make your vision happen. They don't just produce your event, they bring your vision to life. For complete fulfillment of your event vision— on brand, on budget, and on time— you will want to consider utilizing an agency.

To sum it up:

Why do companies choose agencies for event production?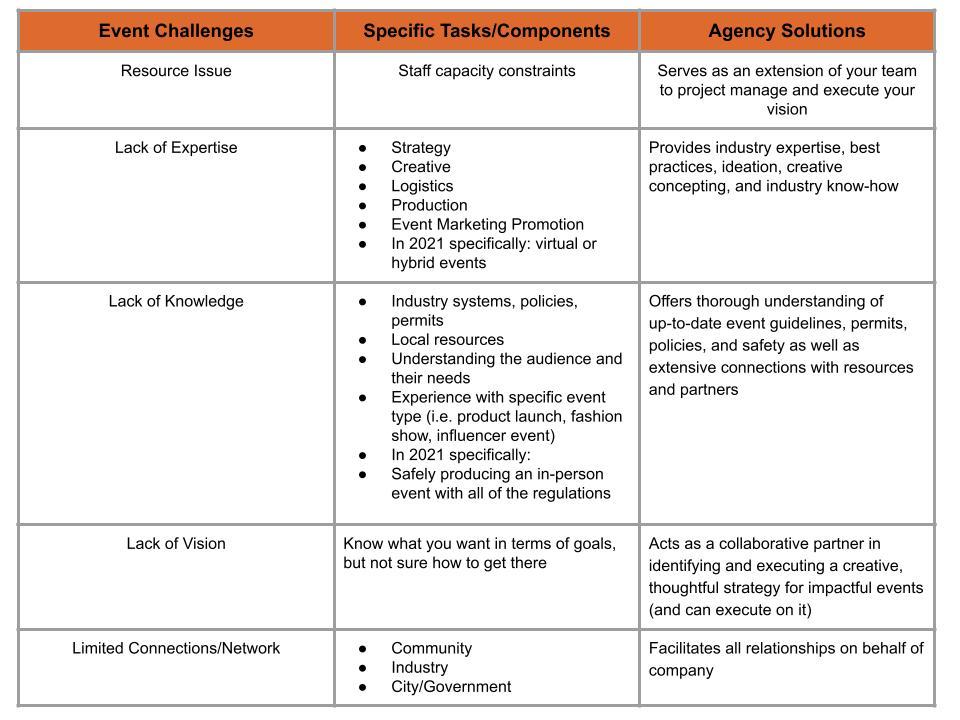 Top Qualities of the Best Event Production Agencies
Think about the ways that an agency could support, enhance, or optimize your current event production needs. What does your team lack that an agency could provide? Where are the holes?
When choosing the agency to trust with your event, research their past events to make sure that their expertise fits your event needs. If you are looking to try out a hybrid event for the first time, you'll want to partner with an agency that has found success in both virtual and in-person events. Thinking of going the more experiential route? Then you'll need to find an agency with a history of producing experiential events to ensure it aligns with your vision.

You want to find an agency that is capable of helping you achieve (and exceed) your goals, and can deliver on these important qualities:
This is not a service all event agencies offer. Only the upper-tier, robust agencies do, yet it is essential for creating meaningful programs that need experiential activations, creative concepting, and to deliver results.
We recognize that events are inherently wasteful, so to work to mitigate this wastefulness, partner with an agency that pushes the boundaries of both imagination and resourcefulness with a commitment to reusing, repurposing, recycling, and redirecting in unique and innovative ways.
The most successful event agencies proactively identify ways to continue delivering a boutique approach for their clients, no matter their size. They adapt to each client and form themselves to fit the client's needs and conditions, providing significant value in truly understanding the client's brand and audience.
No one wants to work with yes-people. Instead, find an agency that leads with expert stewardship, working to understand your goals in order to clear a path for your success. You want an agency that helps to navigate your personal experience based on your specific environment and challenges, not an agency that takes a one-size-fits-all approach to event production.
Collaborative Partnership
Look for a view of team experience and program development that is positive, collaborative, and supportive. This degree of teamwork aims to reflect the sense of community and positive discovery found in their work. Your agency should serve as a partner and build a lasting relationship with you and your team.
Without the ability to visualize and develop concepts (and successfully execute them), and the willingness to provide unique custom ideas for the proposal phase and not just show past work, agencies may not be able to fully capture your specific event vision. Find an agency that has a proven creative department and that can deliver on the vision.
Using Your In-House Team for Event Production
When thinking through using your internal team to produce your next event, consider the team member's expertise, resources, goals, and background. For a smaller-scale event with an experienced team member, ask your team member if they feel comfortable with the role of being the event quarterback. Outline the event goals and resources (including staff time and available budget) and assemble an internal team to support the event production.

When deciding to choose an in-house event planning team, factor in:

Any training your team member will need to do to support any platforms being used, safety guidelines, or new technology for running the event


Your team member's other responsibilities and how they will be affected by the event production or planning


Your event producer's ability to effectively project manage, organizational skills, and working on a tight schedule


Your event producer's stress level, work-life balance, and schedule as it relates to the event timeline


Ability to bring the event goals and vision to life, while satisfying stakeholders and connecting effectively with your audience


Events are time-consuming and time-oriented and planning a large-scale event can take up to a year (that's a lot of personnel hours!). By choosing a team or individual who has the experience and creative vision, as well as confidence in ensuring a safe experience for attendees, your event budget will be well-spent and provide the most effective return on your investment.
Whether you choose to produce your next event in-house or enlist the help of an agency, to create immersive, engaging events in 2021 that abide by ever-changing health and safety guidelines you'll need to be prepared. To help you engage with event attendees online, we put together the DPEM Virtual Playbook.