4 Brand Communities and What Makes Them Special
Written By: Lindsay Sutherland

Regardless of your industry, there have never been as many active brands as there are right now. Brand identity, voice, and mission are more important to consumers than they have ever been before. Customers who have an emotional relationship with a brand have more than 3X the lifetime value of those without emotional relationships and are almost twice as likely to recommend the company.
One of the most successful ways to grow awareness and establish a presence with your audience is to build a brand community full of loyal customers and engaged members. While crafting a brand community can take some time, it's worth the long-term investment and pays in dividends. In 2021 a prevalent and fully engaged brand community is the ultimate asset for organizations looking to make a lasting impact and stand out in their industry.
While there are many sustainable forms of brand marketing that are known to help acquire new customers and prospects, building your brand community goes beyond consumers, points and rewards programs, and social media. In order to make an unforgettable impression on your audience and successfully transform them into happily retained members of your community, brands have to go above and beyond to create engaging and immersive brand experiences that are hard to forget. The goal of these experiences is to create an emotional connection between your audience and your brand. And the most surefire way to spark that emotional connection is through experiential events.
With so many brands competing for your audience's attention online and through advertising, events give you a chance to have your audience's full attention with all five of their senses. But what sets community building experiential events apart from the rest? The key here is to add to those five senses along with one more— a sense of aspiration. When audiences are made to feel improved by, better, special, and seen by a brand they are more likely to join their community.
When brands incorporate meaningful experiential events or programming into their marketing efforts they are able to attract and retain a larger audience base. Sure, people tend to flock to brands that offer free swag and promotions, but that is superficial and doesn't create a lasting impact or truly build a connection. It is those brands that champion a cause of value that are able to form a genuine community around their brand. After all, brands come and go but community is forever.
How to Build Brand Community
From the start, it's important to differentiate between customers and members of your brand community. The key difference here is emotional investment. Just because someone knows about your brand or has purchased from your brand before doesn't automatically mean they are a member of your brand community. Being a customer can be a very passive act and doesn't necessitate a ton of forethought.
For example, think about the last time you bought a tube of toothpaste. Maybe you arrived at the toothpaste aisle and instinctively snagged a tube of Crest toothpaste because it is familiar to you, maybe you're even a loyal Crest user and have no interest in shopping around for other brands because Crest fills the need you have for maintaining your dental hygiene. Even if you have been buying Crest toothpaste regularly for a decade, unless you feel emotionally invested in the brand outside of the service their product provides you with, you aren't a member of their brand community.
Instead, a real brand community is made up of people who follow the brand's content on social media, who share its products/services and content with others, and who enjoy seeing what the brand is up to on a regular basis outside of their purchases. A brand community is a place where like-minded people who have an emotional connection to your brand can connect with each other and form a deeper connection to your brand along the way.
One way to think of your brand community is like a membership program. When you are a member of a group you feel more connected with the other members because you have all become a part of something greater than yourselves. So, how do you convert your customer's into members of your brand community? The first step is to begin creating engagement touchpoints that draw an audience into the universe of your brand in an effort to spark that invaluable emotional connection.
Some examples of engagement touchpoints you can use to build brand community are:


Create points of interaction between community members


Engaging with your community on social media


Integrating user-generated content


Interacting with the influencer community


Giving back programs or support a nonprofit


Executing brand activations to build initial awareness


Creating virtual events


Hosting live experiences


Another key component of building a successful brand community is thinking local. For your next community event or experience, consider incorporating a degree of placemaking to further cement your brand's existence in your community. To get started, here is our Guide to Placemaking and Reinventing Spaces. The importance of cultivating a sustainable brand community is felt by all industries— 85% of marketers and community builders believed that having a branded online community would improve the customer journey and increase trust, and trust is what keeps your customers loyal and turns them into brand evangelists. Think about companies that have built loyal brand followings, like Costco, or Wegmans. To create a branded community that speaks to your company mission and ethos, keep these best practices in mind.
Brand Community Best Practices
During your brand community-building efforts, remember that successful brand communities are built on three principles: feedback, advocacy, and support.


Encourage members of your community to have conversations that are community-driven and can take place amongst your users and consumers without your presence.


Maintain a natural environment in your community that continuously reminds members of what they love so much about your brand. The only thing worse than not crafting a brand community at all is forcing yourself to create one that feels false or unaligned with your brand's ethos and voice. Connect your community in real life by immersing them in your brand story through in-person events or brand activations.


Show your audience that you are listening by giving them opportunities to communicate with you and to provide feedback (and then actually implement changes based on that feedback!).


Turn your users into your creators to get people to talk about your brand on social media. In the world of social media user-generated content is not only critical, it's easy.
Top 4 Brand Communities and What Makes Them Special
The look, feel, and overall persona of your brand community will depend on the values that your organization holds dear. Let's take a look at how some of the top companies have managed to successfully launch and grow their brand communities while staying true to the heart of their brand.
Airbnb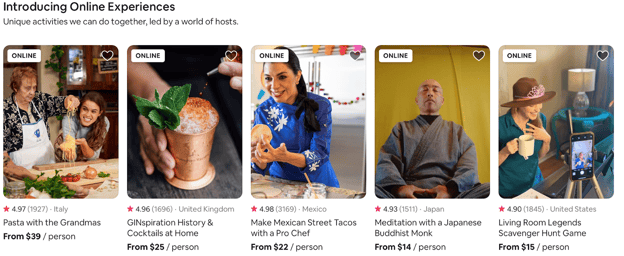 Source: Airbnb Experiences
As a community-driven brand by nature, Airbnb uniquely offers the opportunity to "live like a local" to their guests— a model that naturally puts their consumers in the middle of local communities around the world. Because of their dedication to building community in general and the innately immersive nature of their business, the Airbnb experience is something completely different from that of hotels and other vacation rentals. During the pandemic, they were even able to provide a new way to bring together their community at a time when travel was restricted with Airbnb Experiences, which offers unique online activities for community members to do together, led by hosts from around the world.
What makes the Airbnb community special: Airbnb regularly taps into user-generated content to tell an ongoing brand story— one that reminds their community members at every turn of how dedicated they are to creating expansive, inclusive, and accessible experiences.
By engaging their community in meaningful experiences, they are developing brand loyalty for members and hosts alike. They live and breathe their mission to create a transparent community, hosting regular company-wide meetings with their "Airfam," engaging in two way, honest, open communication, and their "One Airbnb" all company meetup that was developed to "really break down the walls and integrate our community."
Peloton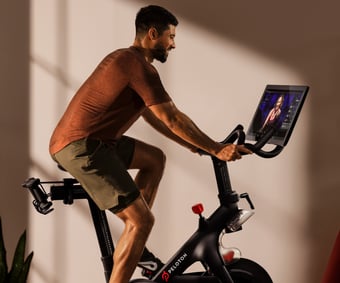 Source: Peloton
Far more than simply a stationary bike that offers online classes, Peloton has quickly emerged as a leader in the world of brand community. By creating an online space for their users to connect every time they take a ride on their Peloton, they've ensured that the idea of community is synonymous with their brand.

To further embrace the fact that their product organically integrates community features that help users to stay connected so they feel like their community is always with them, Peloton uses a mix of live leaderboards, virtual high fives, and tags during classes to allow users to replicate that coveted in-person community feeling.
What makes the Peloton community special: At a core level, they've figured out what most humans need in order to be accountable to their workouts and stick with it— a community that cheerleads your success and holds you accountable for your progress.
Peloton has community built into their DNA, as is evidenced by members who have found each other and formed connections by seeing a neighbor wearing Peloton gear and creating a new friend group, and other stories from Peloton members. Peloton Homecoming is a community brand building experience with the tagline "Together, Wherever" that blends exercise with motivation and celebration.
Starbucks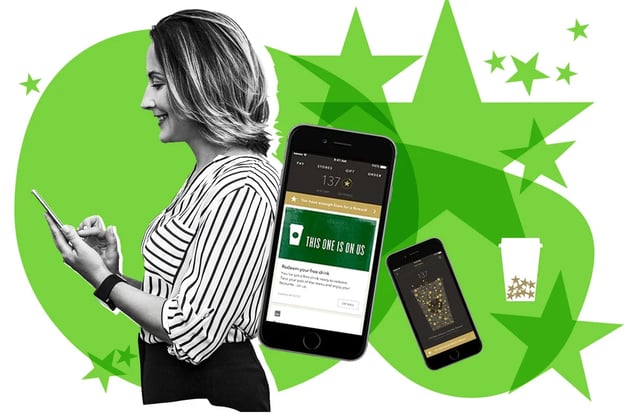 Source: Slate
Starbucks created a group on Facebook called the "Leaf Rakers Society" for those obsessed with Fall and namely, their Pumpkin Spiced Latte (PSL). The group has amassed 41K+ members who abide by the private group's guidelines, "Keep posts on topic, including fall and Starbucks coffee… no hatin' on fall." In addition to this Facebook group of superfans and establishing a highly popular rewards program for their community members (that generates 40% of their revenue), Starbucks has also succeeded by turning their company into a coffee house experience that invites people to stay for a while, whether they are busy at work or meeting a friend to catch up. The secret to their success is their consistent, inviting environment cultivated across all of their stores.
What makes the Starbucks community special: Starbucks has never shied away from community feedback and they often use this feedback to create content and in turn, create a more engaged community. For example, the "My Starbucks Idea" initiative works as a modern spin on a suggestion box and has led to the implementation of nearly 300 innovations— including digital tipping, peach green tea lemonade, and free Wifi. Starbucks' ability to listen to their community members is a key component of their brand community, and what keeps members coming back for more time and again.
Apple

Source: Apple Support Communities
When you think of what sets Apple apart from its competition, what comes to mind? Apple has built a dedicated community of loyal Apple-lovers due to their signature product and software launch events and their elevated stature. Over the course of their nearly 50 years of existence, Apple has remained culturally current and progressively inclusive. Most prominently of all has been their dedication to brand sensitivity, leaving no room for customers or community members to ever feel confused over what the brand stands for.
What makes the Apple community special: For a company that produces products designed for individual use, when you take just one step into any Apple store you are automatically hit with a wave of camaraderie. A large factor of the secret to Apple's brand community success is their dedication to customer support, evident in their physical stores and online through the use of community forms for individual Apple products.
Through their initiative "Today at Apple," Apple users can gather at retail locations to be inspired, learn new things, and meet like-minded creatives. In the LA store, Apple hosts storytelling events and sessions in music, art, and design along with local artists.
Event marketing takes the principles of brand community building and ties them into experiential programming. People aren't excited as much by free stuff as they are the championing of causes and ways to engage meaningfully. Audiences want to support brands and expect value, rather than the show of support that is only surface-deep.