Experiential Events Are The Missing Piece of Your Marketing Strategy in 2021
Written By: Kyra Derdivanis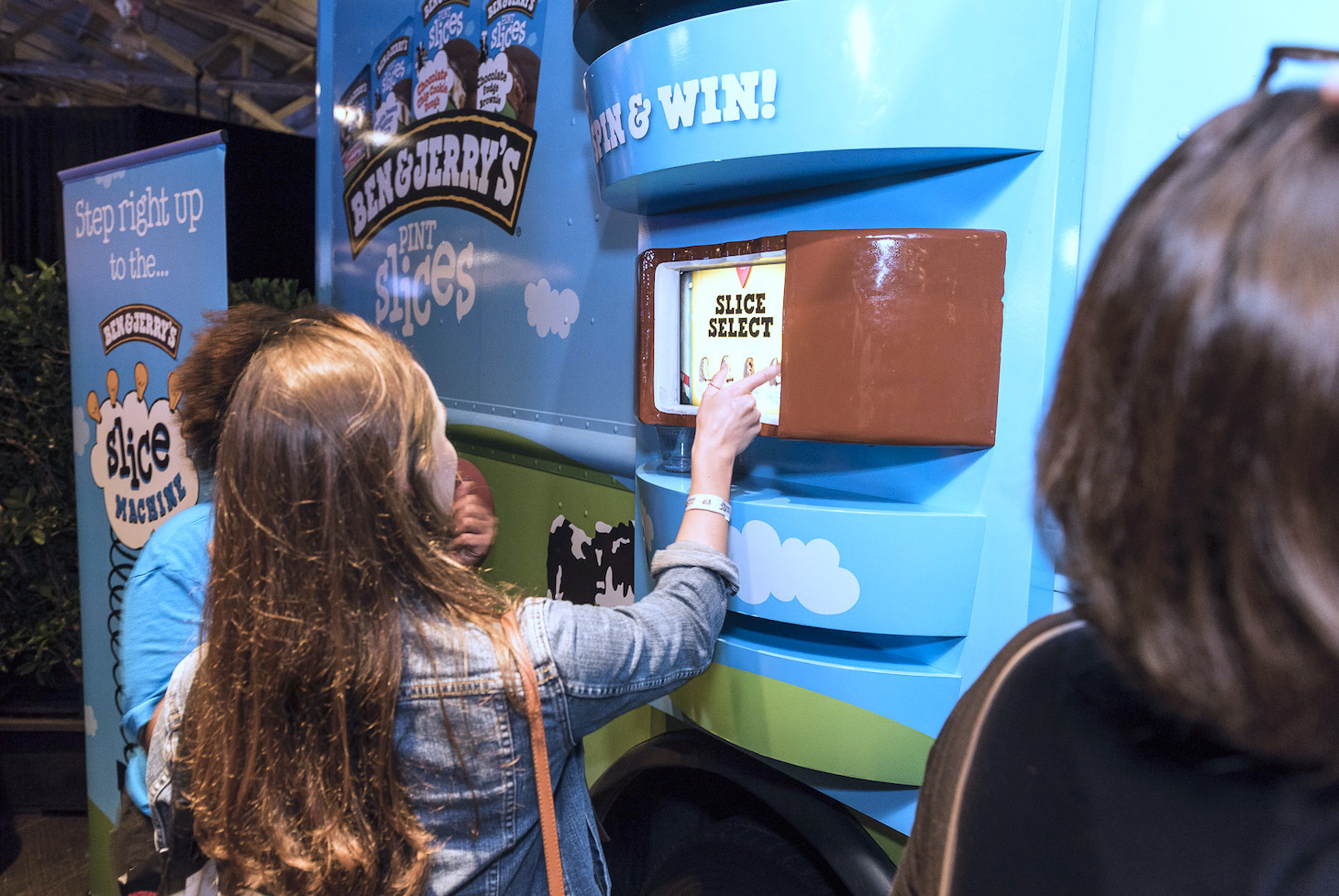 At any given moment we are being hit by a variety of different streams of marketing. It's all around us— on billboards and bus stops, embedded in the shows and movies we watch, in the podcasts we listen to, on sidebars of each website we visit, in our email inbox, and on our social media feeds. But how much of this marketing are we actually paying attention to and absorbing?
The constant inflow of marketing we experience daily has caused us to go numb to it. Think of each piece of marketing as a conversation. After enough time, all of that nonstop chatter just becomes white noise and is reduced to background noise we often don't notice. We stop looking up at the billboards, we skip through the podcast advertisements, and we mass delete the promotional emails from our inbox.
Modern marketing is failing to make an impact for this simple reason: it's a one-way message that we've heard before, not a conversation. In order to make an impression or lasting impact on your target audience with marketing, strategists and brands need to be willing to dive deeper into their creativity and make something memorable that ignites a conversation. Brands that effectively build lasting relationships with their communities and customers do so by standing out and speaking with their audiences, not at them. To do so, more and more brands are embracing the world of experiential marketing and creating experiential events in order to connect with and captivate their audiences.
What is an experiential event?
An experiential event is an immersive and engaging experience that connects your audience to your brand in order to create an emotional response and make a lasting impact.
Instead of being an event that is passively watched, experiential events are experienced on multiple levels and can be interacted with. The most effective experiential events engage all five senses, deeply immersing the audience in an experience that tells your brand story and invites your audience to participate. In these moments brands have their audience's full attention, allowing them to create a dialogue while also giving them the space to become a contributor to the experience — and by extension, the brand — as well.
What are the types of experiential events?
Experiential events are engaging opportunities for interaction, and with such loose qualifications dictating what is and is not an experiential event, strategists and brands are free to dive deep into their creative wells in order to create a totally new and unique experience.
The most popular types of experiential events include:
Brand activations


Product launches


Brand awareness campaigns


PR stunts


Community-building events


Influencer events


Professional networking opportunities


Sales or pipeline acceleration events with prospective consumers


Customer engagement events


Internal

employee retention

events
Considering an experiential event but don't know where to start or have the bandwidth to make it happen? We'd love to explore your event possibilities— set up a consultation here.
How Top Brands Create Memorable Experiential Events
Every brand has its own unique brand community and targets a different audience. Therefore, when these same brands build experiential activations, the results look completely different - in the best way possible. Here is a closer look at how top brands designed and executed their own memorable experiential events that connected with their specific audiences.
Airbnb + The Barbie Dream House
Source: Airbnb
To celebrate the 60th anniversary of Barbie, Airbnb opened the doors of the iconic Barbie Dream House in the heart of Malibu, California for four lucky guests to celebrate powerful women and provide a unique branded experience for guests and fans. "As a modern homeowner and entrepreneur, Barbie is very excited to open her home by listing it on Airbnb to share her story and to continue to inspire fans around the world," Barbie released in a statement.
One highlight of the experience is guests can explore Barbie's walk-in closet that features her many different career-specific outfits that she has worn over the years. This experiential event presents Barbie with the opportunity to release new career dolls such as Judge Barbie, President Barbie, and Doctor Barbie as part of a larger campaign. Airbnb is also turning this event into an opportunity to do good. The brand made a donation to The Barbie Dream Gap Project GoFundMe initiative, which aims to help enable young women to follow their dreams.
Tinder Pride Slide
Source: Newsweek
Experiential events are excellent opportunities for brands to show off a different side of themselves to the public. For a popular app like Tinder, this means engaging with their audience IRL, outside of the phone screen. Since launching in 2012, Tinder has worked to appeal to the LGBTQ+ community by adding additional gender options and allowing users to identify their sexual orientation. While these initiatives effectively boosted inclusivity on the app, Tinder was still looking for a way to show their support in a way their audience could experience.
At New York City Pride, Tinder showed that not only are they willing to put their money where their messaging is, but that they could have fun while doing it. Tinder constructed a 30-foot "Pride Slide" — one foot for each of the states that don't have anti-discriminatory laws protecting the LGBTQ+ community — with "Slide Into Your Senator'' written down the side. For every person that rode the slide, Tinder donated $10 to efforts to pass the federal Equality Act, and throughout the summer, they also offered free advertising to nonprofits that supported the LGBTQ+ community.
How to Create an Experiential Event
Ideating and producing an experiential event is complex and requires event managers and producers to be nimble, highly creative, and ready to go where few events have gone before (see examples above). With the right team, preparation, and tools, experiential events will prove to become a major part of your brand strategy.
Step One: Establish a Clear Event Strategy
This is a comprehensive stage when you'll make the majority of the decisions about your event. Here, you'll determine the goal and purpose of the event, who the audience is, what will resonate with them, and what story you are telling. Don't get distracted by what exactly the event will look like just yet. Before you can do so, you first need to put in the work on creating a clear vision with a narrative that makes sense to your audience.
Your comprehensive event strategy should include:
An outline of the challenge — aka the "Why" of the event, what problem is the event trying to solve?


Event goals — be specific and get sign-off on goals by stakeholders before moving forward in order to set clear expectations for the event across the board.


The target audience — outline their demographic and psychographics, determine the desired reaction you want from the audience.


Resources to be used — this includes your event budget, staff requirements, and anything else you need to meet your event goals.


Event format — will your event be

in-person, virtual, or a hybrid combination of the two

?


Metrics — how will you measure the success of your event?


Step Two: Build and Ideate
Now that you've crafted the foundation for your event, it's time to dive in and start building it -- time to get creative! This is the "What" of your event.
The ideation process should work to answer the following questions:
What does this event look like?


What will happen when guests are there?


How does the event communicate your message to the audience?
Throughout this process, remember to continuously connect your event elements to your overall brand story, messaging, and goals. It can be easy to let ideas run from their original intention.
Experiential events are meant to be super fun and engaging, but they still need to be cohesive in order to be effective. For example, there is no need to add elements or features just for the sake of it. Instead, the more that your entire event ties back to your event goals and strategy, the more unified an experience the event will be for attendees.
Step Three: Map the Attendee Experience
An experiential event is only as effective as it is memorable. The attendee experience starts long before the event begins. This approach implores you to gather data on your audience that can be used to personalize their event experience and gain greater insights while you have their attention. By designing your event for the attendee experience, you are ensuring they are engaged (actually paying attention to what you are saying) and a part of your conversation so you can create a relationship with them that extends beyond the event.
Start by mapping out each touchpoint that your attendees will experience before, during, and after your event. How will they hear about it? Once they arrive, how do they experience your brand story? What does the post-event follow-up look like and how will you stay in touch?
To determine if a touchpoint is a necessary addition, it needs to do two equally important things: connect to your goal and messaging in a fun and thoughtful way and generate some type of response. Any touchpoints that don't serve your event's purpose, engage attendees or invoke an emotional reaction should be reconsidered. Instead, focus on creating touchpoints that guide your attendees through the event and are interactive. Remember to engage all five senses of each attendee, while creating experiences that add value to the event and your brand.
As the world continues to open back up and people are once again eager to gather with one another, brands are beginning to reembrace in-person events. To access resources that will help you approach your event strategy, use the guide: Navigating the Return to In-Person Events.